Support Coach Dana Day
Stan Sheriff Arena, UH Manoa
Honolulu, Hawaii
United States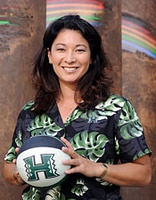 Monday, January 18th (MLK Day) at 5:00 p.m. UH vs. Utah State

We want to show our support for Coach Dana , a fellow Uchinanchu, who is the head coach of the UH women's basketball program.
How do we do this? Please come out in force! Wear a green shirt and most importantly, wear something purple on your head . It could be a scarf, a hat or eisa wear - just make sure it's purple. We want to make splash and a statement.
Meet up in the area behind the coaches bench, either EE or FF. Look for the Purple Heads! The Head Purple Heads for this event are Jimmy and Marian Iha.
Halftime – Hawaii Eisa Chimugukuru Daiko with Jon Itomura and Eric Nitta of the Young Okinawans of Hawaii (Shishimai).
Tickets – Can be purchased at UH Box Office
Regular Admission is $7
Senior Admission (65 and older) is $5
Kids (up to high school) are free. They will be given a pass at the door to the arena.
Parking is $5 per car, so carpool if possible.
About Coach Dana - Both of Dana 's parents are of Okinawan decent: the Oshiro family is from Nishihara and the Takahara family is from Oroku. Dana recently stepped down as the Sports Coordinator for the HUOA and currently a member of the Nishihara Chojin-Kai Club.



"I am proud of my Uchinanchu heritage and have had great mentors who have taught me the importance of culture. Okinawan culture is family oriented and we instill a family atmosphere in the Rainbow Wahine Basketball Program. Our Wahine Basketball team is hard working, industrious, humble and appreciative of the community's support !" - Dana
******************************
This event is being organized by: Live Yuimaru .
Yuimaru : A system of cooperative exchange of labor; chipping in on a labor project common to the village such as harvesting rice of building a house. A spirit of cooperation.




gruacach . Last modified Jul 09, 2010 12:14 p.m.
---