AOKI a Documentary Film
Northwestern University
Kresge Hall 2-415
1880 Campus Drive
Evanston, Illinois
United States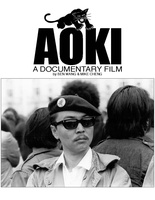 The Asian American Studies Program & The Department of African American Studies present

Part of the Asian American Studies 10th Anniversary Film Series
AOKI
A DOCUMENTARY FILM
by Ben Wang & Mike Cheng

Friday / January 15, 2010
4 - 6 pm
Kresge Hall 2-415
1880 Campus Drive • Evanston, IL

A short Q&A with Greg Jue (participant in the Berkeley '69 TWLF Strike) will follow the screening
AOKI is a documentary film chronicling the life of Richard Aoki (1938-2009), a third-generation Japanese American who became one of the founding members of the Black Panther Party . Filmed over the last five years of Richard's life, plus historic footage from the '60s, this documentary features extensive footage with Richard and exclusive interviews with his comrades, friends, and former students. Viewers will learn about Richard's childhood in a WWII Japanese American concentration camp , growing up in West Oakland, and serving eight years in the U.S. military. The film explores previously unknown facts about the formation of the Black Panther Party such as how Richard became intimately involved in its founding. AOKI highlights how Richard's leadership also made a significant impact on individuals and groups in the contemporary Asian American Movement. Richard's contributions to the groundbreaking organization Asian American Political Alliance (AAPA) and its involvement in the Third World Liberation Front (TWLF) student strike led to the formation of ethnic studies at U.C. Berkeley. Featuring Richard Aoki, Bobby Seale, Yuri Kochiyama, Kathleen Cleaver, Elbert "Big Man" Howard, Harvey Dong, Diane Fujino and more...
--



Gregory Jue
Program Assistant
Asian American Studies Program
Northwestern University
Kresge Hall 1-435
1880 Campus Drive
Evanston, IL 60208
847.467.7114 p
847.467.8933 f





intrepidmouse . Last modified Jul 09, 2010 12:14 p.m.
---