Hogaku: New Sounds of Japan 2010
Ramsey Recital Hall / UGA Performing Arts Center
230 River Road
Athens, Georgia, 30602-7280
United States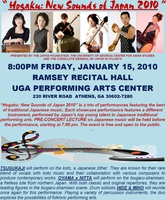 "Hogaku: New Sounds of Japan 2010" is a trio of performances featuring the best of traditional Japanese music. Each showcase performance features a different instrument, performed by Japan's top young talent in Japanese traditional performing arts.
Pre-concert lecture on Japanese music will be held before the performance, starting at 7pm.
The event is free and open to the public.

PERFORMERS:
Tsugukaji will perform on the koto. They are known for their rare blend of vocals with koto music and their collaboration with various composers to produce contemporary works.
Oyama x Nitta will perform on the tsugaru-shamisen. With both classic and original repertories, they are leading figures in the tsugaru-shamisen scene.
Drum soloists Hide & Miho will reunite once again for this performance. Playing a variety of percussion instruments, the duo explores the possibilities of folkloric performing arts.
For more information, contact the Consulate General of Japan in Atlanta at 404.365.9240 or info@cgjapanatlanta.org.
Presented by the Japan Foundation, the University of Georgia Center for Asian Studies, and the Consulate General of Japan in Atlanta.

vkm . Last modified Jul 09, 2010 12:14 p.m.
---