Barbara Horiuchi at Monarch Studio, Seattle
Monarch Studio
312 S. Washington Street
Seattle, Washington, 98104
United States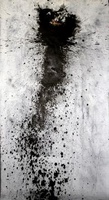 Copyright © 2009 Monarch Studio | 312 South Washington St. (Tashiro-Kaplan building) · Seattle WA 98104 | 206.682.1710 / 206.931.1356 | SIte Credits
Barbara Horiuchi is a California-born third generation Japanese-American, a Sansei. In her current art she explores the repercussions of trauma born from issues of injustice. This examination wells from personal familial experiences; immigration, the historic internment experience of Japanese-Americans during WWII, marginalization, loss, and attempts at recovery. The information processed from these experiences was passed to her by a culturally-influenced, verbal and visual language which often was not articulated directly but indirectly expressed. This information informs her work and shapes the manner in which it is conceived, constructed and created.
Link to Monarch Studio, Seattle and Horiuchi's work, click HERE

brhoriuchi . Last modified Jul 09, 2010 12:13 p.m.
---