Stir-Friday Night! Present Rock Out With Your Wok Out!
The Second City
1616 N. Wells St
Chicago, Illinois, 60614
United States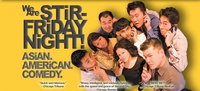 Stir-Friday Night!

Asian. American. Comedy.

Saturday, September 26
7:30pm
Saturday, October 3
7:30pm
Saturday, October 10
7:30pm
Saturday, October 17
7:30pm
Saturday, October 24
7:30pm
Tickets are $12-General, $10-Students, $6-TC Students
September 26 - November 7
Rock Out with Your Wok Out! explores the past of our parents to help define who we are today. We also examine what is essential in being Asian American and bring to light the struggles of living in two cultures all the while making light of what "divides" us. This show will satisfy your white guilt.
http://stirfridaynight.org/

intrepidmouse . Last modified Jul 09, 2010 12:13 p.m.
---