On '06: Rourou - On Ensemble in Los Angeles - March 31 & April 1
David Henry Hwang Theater (East West Players)
120 North Judge John Aiso Street
Los Angeles, California, 90012
United States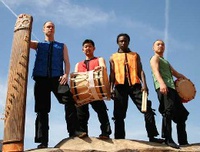 Los Angeles-based taiko group, On Ensemble, presents On '06: Rourou, the group's 2006 performance of original works for Japanese drums. On '06: Rourou debuts all-new works for taiko along with the group's seasoned repertoire in revised and refined form.
World-renowned percussionist Patrick Graham will join On Ensemble's four members to perform a host of eclectic works incorporating Japanese flute, turntable scratching, koto, western drums, Tuvan throat singing, and more.
[inline:1]
March 31 at 8pm & April 1 at 2pm, 8pm
David Henry Hwang Theater (East West Players)
120 North Judge John Aiso Street
Los Angeles, CA 90012
Tickets to all shows are $26.50 in advance, and $29 at the door. There is a $5 discount available for students and seniors.
Reservations online at Plays411.com/Rourou and by phone at 323-960-7782.
For more info, please visit OnEnsemble.org.

vkm . Last modified Jul 09, 2010 12:11 p.m.
---