"I am not a museum type of person," says Bob Uragami. He had his first encounter with the Japanese American National Museum in 1991 when it was looking for artifacts for its first exhibition, Issei Pioneers: Hawaii and the Mainland, 1885–1924.
Bob submitted a Japanese letter, dated about 1916, which had belonged to his mother. The museum translated it for him. It was a letter from his father, who was living in the U.S., to his future bride. "Contrary to what you have heard, there is no money tree," he had written. Life in America was tough.
Both of Bob's parents were from a neighborhood called Uragami in Nachikatsuura, Wakayama, and his mother was a picture bride. His father was an activist and, unlike typical Issei, unafraid to speak his mind. He had leadership ability and was registered as a Boy Scout Commissioner.
Even to this day, Bob still sticks to his father's principles, "If you think you're right, stick to your guns," and "If you're wrong, you're the first guy to apologize." The letter he had written to his bride reflected his honest personality. Many other men tried to attract picture brides by making their lives sound fancier than they really were.
Bob's father first came to Seattle in 1902, then worked on a farm in Fresno, California, before getting married and moving to Los Angeles. There, he and his wife worked for a Japanese American restaurant for six months without pay, studying the business until they were able to buy their own restaurant in the Crenshaw area, called Togo Cafe. After three years, they were just about ready to break even when WWII began and they were incarcerated at Amache.
"Being young, you never think about the hardship of parents," says Bob. "We sold mise (the store), car, and everything." Growing up in the city, he had never owned a pair of boots. Now, for the first time, he had a pair, taking him to a new place. He was excited, but didn't know where he was going, only that it was "somewhere" you needed a pair of boots. At Amache, he played "war games" and sandlot football and joined the Boy Scouts. He also met his future wife, Rumi, in his ninth grade class.
Decades later in 1991, his wife Rumi, who was active at the museum, invited Bob to join. In December that year, the museum organized the docent training class as a part of the preparation for Issei Pioneers. It was the first time for Bob to join the museum as a volunteer, but he had no intention to stay involved.
In April 1992, Issei Pioneers was finally opened to the public. Bob saw it and learned for the first time about the historical background and experiences that Issei went through. To honor Issei like his parents, "I have to come and volunteer—paying them back," he thought.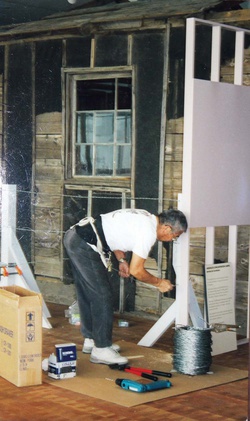 While walking through the exhibition on the opening day, Bob met a staff member who was looking for a carpenter. With his engineering background, he was able to construct display panels for the exhibition. A week later, he joined the production department as a full-time volunteer.
"Now I have Museum daughters and Museum sons whom I used to work with," he says. Those "children" live as far away as Singapore, Hawaii, and Sao Paolo, and he still visits some of them every year. "We all started together," he says. "Everybody learned as we went along. We cried and laughed."
Bob's wife, Rumi, who passed away in 2013, was an extraordinarily talented person. When their children were about four and five years old, for example, she invited the neighborhood children over and taught them crafts like tie-dying and origami. One Independence Day, she blocked the neighborhood street and organized a parade of children on their decorated tricycles.
It was the same when she joined the museum as a volunteer, one of its first in 1988. Rumi hosted the first origami class, and she was there every day, working 2,000 hours each year. "I was lucky," says Bob. "She was special."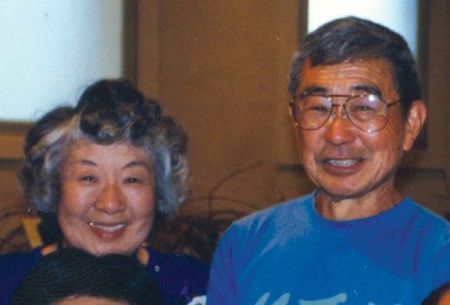 * Mr. Uragami was interviewed by Tomomi Kanemaru and the article was written by Ryoko Onishi for Voices of the Volunteers: Building Blocks of the Japanese American National Museum, a book presented by Nitto Tire and published by The Rafu Shimpo. This story has been modified slightly from the original.

Presented by