BC Artist Tsuneko 'Koko' Kokubo: A RetroPERSPECTIVE in Kaslo
Langham Galleries
447 A Avenue
Kaslo, British Columbia
Canada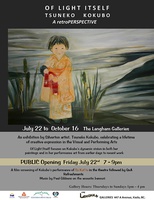 "Of Light Itself": A RetroPERSPECTIVE"
One of Canada's most esteemed artists presents her 'RetroPERSPECTIVE' at the historical Langham Hotel gallery in Kaslo, BC. The visual artist and performance artist who calls Silverton, BC home, turns 85 in July. Here is a link to a recent (May/June 2022) performance video entitled Furoshiki.
https://vimeo.com/714610184?fbclid=IwAR03Cl6D9PPADAf3bSOvRkD_JUnql4DXOO9W-6EShS2Ck1VGCf-lZyaCSAY
'Of Light Itself' focusses on Koko's dynamic vision in both her painting and in her performance art from earlier days to recent work.
A film screening of her performance in So Kat'ta in the theatre will be followed by a Q&A. Music by Paul Gibbons on acoustic bansuri. Refreshments.
Gallery Hours: Thursday to Sunday, 1-4

Masaji . Last modified Jul 22, 2022 5:28 a.m.
---