Staging our Histories: Creating Masao and the Bronze Nightingale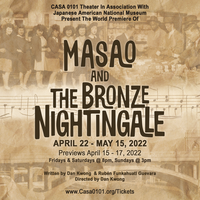 FREE
Join writers Dan Kwong and Rubén Funkahuatl Guevara in conversation moderated by Kristen Hayashi around their new play, Masao and the Bronze Nightingale, which explores the story of a Japanese American jazz musician from Boyle Heights who falls for an African American jazz singer after World War II.
About the show:
In the aftermath of WWII, formerly-incarcerated Japanese Americans are shocked to discover Little Tokyo has become "Bronzeville", an African American community. When a Japanese American jazz musician from Boyle Heights falls for a Bronzeville jazz singer, the ripple-effect of their romance causes upheaval in every direction as the Japanese, Black, and Mexican American communities react.
This program is presented in partnership with the Museum of Latin American Art as part of their Asian & Pacific Islander Latinx Heritage Festival, and CASA0101 Theater.

JANM . Last modified Apr 21, 2022 1:55 p.m.
---