Exhibition Opening at the Storrier Stearns Japanese Garden
Storrier Stearns Japanese Garden
270 Arlington Drive
Pasadena, California, 91105
United States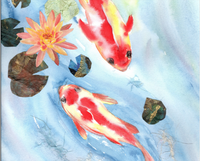 En Gallery Exhibition Opening

Swimming and Swaying: Koi and Bamboo Paintings
by Suemae Lin Willhite
Opening Reception Friday, January 18
5:30 to 7:30 p.m.
Wine and Cheese
Free with reservation / $10 at the gate
For the first exhibition of 2019, En Gallery at the Storrier Stearns Japanese Garden will feature the Chinese brush paintings of Santa Barbara-based artist Suemae Lin Willhite. The gallery is presenting Suemae's paintings of koi fish and bamboo – both inhabitants of Chinese and Japanese gardens and both auspicious symbols in these cultures.
The exhibition will be on view through Friday, March 15. An opening reception will be on Friday, January 18 from 5:30 to 7:30 p.m. and is free with reservations made on the Events and Reservations page of the website at www.japanesegardenpasadena.com.


SSJG . Last modified Jan 11, 2019 8:28 p.m.
---