Shochu 101 at The Japanese Culinary Center
Japanese Culinary Center
711 Third Avenue
New York, New York
United States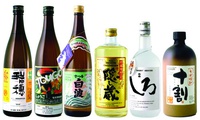 Shochu has outsold sake in Japan since 2003. What is shochu exactly and why is it so popular in Japan?
Shochu Advisor, Yukari Sakamoto, will demystify this Japanese spirit that is often misunderstood outside of Japan. Shochu 101 will introduce the basics of shochu and an array of six different types of shochu. There is no better way to train your palate than to "nomikuraberu" – taste the shochu right next to each other. By the end of the evening, determine if shochu is something that fits your tastes, and if you prefer your shochu on the rocks or "oyuwari" with hot water.
The shochu will be paired with popular izakaya fare including edamame, Satsumaage, and tsukemono (Japanese pickles).
Please come join us and enjoy the flavors.
http://server.lotusws.com/~jcccom/?p=719

yukarisakamoto . Last modified Jul 09, 2010 12:14 p.m.
---