Today, basketball and golf are the sports of choice in Japanese American communities, at least it seems to be in Southern California. However, back in the 1950s, '60s, and '70s, JA bowling leagues were all the rage. In it's heyday, you almost had to be on a waiting list to join a team. Leagues were often scheduled back-to-back on the same night.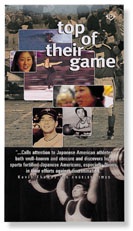 In 2000, the Japanese American National Museum had an exhibition called More Than a Game: Sport in the Japanese American Community. Included in the exhibition was a section about Japanese American bowlers like Dusty Mizunoue and Judy (Seki) Kikuta, the first woman west of the Rockies to bowl a perfect 300 game. I learned that it was a Nisei team in Seattle who first challenged the American Bowling Congress policy prohibiting membership by people of color by entering a Boeing Bowling League in 1949. By 1950, following a string of lawsuits and other challenges to the ban, the color ban in bowling was finally lifted.
Although bowling leagues became integrated, Nisei or JA bowling leagues still flourished. Hundreds of Nisei bowling teams and many leagues were formed. The JACL and others organized bowling tournaments. My parents and many other relatives on both sides of my family have participated.
Growing up, I spent a lot of my Friday nights at Holiday Bowl in the Crenshaw district of Los Angeles. My parents bowled along with several of my aunts and uncles in a Nisei league there from 9pm until whenever they finished. By the time we actually finally left the alley, it was usually well past 12pm.
I remember their bowling shirts back then had the "Go For Broke" insignia on the sleeves. Later, that league moved to Little Tokyo, but my parents remained at Holiday Bowl with the new JA league that started with others who didn't make the move over.
As a young child, my sister and I would bring our Strawberry Shortcake dolls and play with our cousins whose parents also bowled in the league. We didn't really watch the action on the lanes. It was mostly a time for our own play. By the end of the evening, we would lay down on the hard, plastic continuous row of benches that extended behind the lanes and wait for our parents to finish their games.
As we got a little older, we brought money to play video games. We would carefully ration them out so that we would still be able to play late in the night. Occasionally, it was also a place for us to sell our fundraising candies. Grace's chocolate Easter eggs, chocolate bars, etc. We were painfully shy back then, but managed to muster up the courage walk down the alley selling our "wares".
Sometimes, we would go to the coffee shop for a late-night snack. We always ate dinner before-hand, but we would go there for French fries or sometimes jello and hang out at a table for hours and catch up with our cousin as she told us about her latest crush.
Although I did very little actual bowling at Holiday Bowl, I still have many fond memories of my time there. Maybe that's why despite the fact that I've hardly put my bowling ball and shoes to use in the last ten years, when a coworker asked if I would join his Nisei bowling league team, I jumped at the chance. Well, maybe not jumped…more like gently prodded and bribed with food.
For me, it's partly for light exercise, but mostly for fun and the sense of camaraderie that seems unique to bowling. What other sport do you give high-fives and encouraging slaps whether the outcome is good or bad? It's a very supportive atmosphere…you cheer the strikes, spares, and tricky splits, and give commiserating groans for the missed pins and opportunities.
Then there are the side pots. Yes, gambling goes hand-in-hand with bowling. In fact, there are many Nisei mini-tournaments held in Las Vegas—very popular as an excuse to go to Vegas, but at least they have an additional opportunity to win some gambling money. My parents go several times a year. They still bowl regularly—every Tuesday morning, and my mother recently also started a Friday morning league.
Apparently, it is not uncommon for these Nisei and Sansei to bowl in multiple leagues, sometimes even in different bowling alleys. Men and women in their sixties, seventies, eighties, and some even in their nineties. In my parents' league, my father is still considered young in his mid-seventies. Most of them, like my parents, have bowled for a long time.
In my new league, there are some younger people like me (and by younger, I mean in their thirties and forties), but most of them are older. I wonder about the future of these JA bowling leagues. There still seems to be quite a few of them around in Southern California, but because they rely on the same people, as they are no longer able to bowl, will the leagues die out? There doesn't seem to be enough younger people coming in. How can these leagues survive? Once you start losing people, it seems like it'll start shrinking exponentially.
To learn about Holiday Bowl, visit the online Holiday Bowl History Project for a timeline, essay, resources, and a database of video interviews.
Holiday Bowl is now gone. Many other alleys have closed over the past ten years. As we lose these and other significant sites of our Nikkei communities, will we also lose that sense of community…or does it just change? Instead of bowling alleys, maybe it's golf courses and basketball courts that become the place that we connect.

*Historical information used in this article came from More Than a Game: Sport in the Japanese American Community edited by Brian Niiya, published by the Japanese American National Museum in 2000 as a companion to the exhibition of the same name.