2015 Shinnenkai New Year's Luncheon
ZenCu Sushi & Grill
319 E. 2nd St., #206 in Little Tokyo Mall
Los Angeles, California, 90012
United States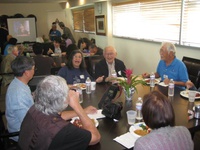 Little Tokyo Historical Society's 2015 Shinnenkai New Year's Luncheon will be on Saturday, February 7 at 11:30 AM to 1:30 PM at ZenCu Sushi & Grill at 319 E. 2nd St., #206 in Little Tokyo Mall. Cost is $10 per person for choice of Chicken or Beef Teriyaki lunch set which will be collected at the door. Immediately after, please join us for dessert at the Open House at the new LTHS office across the way at unit 203. All are welcome to attend this casual and informative event to learn about the all-volunteer organization, its mission and activities planned for 2015. Parking at Little Tokyo Mall next to Union Bank and throughout Little Tokyo. Please RSVP with choice of lunch menu to littletokyohs@gmail.com or call 626-744-9810.
http://www.littletokyohs.org/
https://www.facebook.com/events/639666532828455/

lthistory . Last modified Jan 09, 2015 6:19 a.m.
---