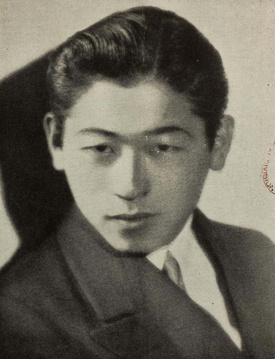 The outbreak of the Pacific War would decisively shift the life of Wilfred Yoshitaka Horiuchi. Ironically, at first it aided his career, as Wilfred Hari was called back to work after Pearl Harbor for a walk-on part in a new war propaganda film, Secret Agent of Japan. When interviewed about the film by syndicated columnist Harrison Carroll in January 1942, Hari noted that he did not mind playing an evil Japanese, since he was a U.S. citizen. "I am married…but my wife urges me to go ahead. We are both Americans and want America to win the war." Hari added that he was not afraid of retaliation by Tokyo against relatives in Japan because he had none. "I have never been in Japan and I can't read or write the language. I can understand only a little."
Horiuchi's denial of any Japanese identity or language fluency seem rather curious, not only in view of his work as a radio host singing Japanese songs and promoting Japanese music, but some of his public activities. As mentioned, in 1933 he defended the Japanese position during a radio debate over the Manchurian question. In May 1941, he was recruited to speak as a Japanese citizen at a UCLA student world affairs conference, and presented on "Japan's Population Problem."
Mr. and Mrs. Horiuchi, like other Japanese Americans, were rounded up under authority of Executive Order 9066. Horiuchi was forced to abandon his home and his graduate studies at USC. Meanwhile, he and his wife had planned to have a baby, but amid the fear and uncertainty of removal, Mrs. Horiuchi had an (illegal) abortion. In the end, the couple were sent for confinement at the Poston camp.
While at Poston, Horiuchi was named director of the Drama Guild of Unit 1, and taught drama classes. He also organized oratorical contests (with the assistance of his wife, who taught public speaking to young Nisei). In late 1942, he wrote "Postonese," a 3-act comedy depicting life in camp. In early 1943, with help from fellow actor Teru Shimada, he put it into production. Shimada took over an entire barrack and designed a stage for the dramatic department. Horiuchi served as co-producer, actor, writer and director (for which he was dubbed "Orson Welles" by the Poston Chronicle).
In October 1943, the Horiuchis were transferred to the "segregation center" at Tule Lake. While they were at Tule Lake, their son Koki Horiuchi (later known as Ted Asakusa) was born. In January 1945, Horiuchi put together the "Tule Radio Playhouse Show," a mock one-hour radio broadcast. Designed to give some practical experience to aspiring radio performers and technicians, it featured four one-act radio plays, songs and dances.
With the war's end, Yoshitaka Horiuchi (as he would henceforth be known) decided to abandon his wife and son and move to Japan. The reasons for his decision to go to Japan are vague, though he evidently felt that he would have little in the way of professional opportunities as an ethnic Japanese in postwar America. He renounced his U.S. citizenship and in June 1945 he was sent to Santa Fe in preparation for deportation. His wife and son remained at Tule Lake until March 1946, then returned to Los Angeles, where she later remarried.
Yoshitaka Horiuchi arrived in Japan early in the Occupation period. The available information on his career in Japan, most of which comes from Horiuchi himself, is fragmentary and unverified. Horiuchi later claimed to have obtained a Doctor of Law in Public Relations Science and PR Dynamic Diplomacy from the University of Tokyo (presumably working in Japanese), and then to have served for a time in the Japanese Foreign Ministry.
What is certain is that in 1950, under the name Dr. Yoshitaka Horiuchi, he entered an English-language essay contest for Japanese nationals sponsored by the Japan Times-Japan United Nations Association. His essay, "International Peace in the Atomic Age," won the Education Minister's Trophy. In the essay, which was published in Nippon Times, he asserted that the only way for mankind to successfully defend against the Atomic bomb was by eliminating war, which could be done by educating ordinary people to renounce nationalism and to think of themselves as "world citizens." An article on Horiuchi's prize described him as director of a foreign trade firm (likely the Mitsui Wooden Ship Building Co.)
During this same time, he once again was married (presumably to Chiyoko Horiuchi, who was later recorded as his wife). His son Yoshihide Horiuchi was born in 1951, and daughters Hiromi and Mayumi followed. At some point Yoshitaka Horiuchi served as an official at the Ministry of International Trade and Industry (he later referred to himself as having occupied a Cabinet-Minister level position at the ministry.)
Horiuchi went into teaching during the 1950s as a lecturer at Gakushuin University, an elite school for the royal family and Japanese social leaders. Gakusuin's president was Yoshishige Abe, a onetime Education Minister, whom Horiuchi later referred to as his "legal father." He also lectured at Waseda University Graduate School (he would later become Dean of International Relations and Public Relations Studies at Waseda).
By the end of the 1950s, Horiuchi revamped his longstanding interest in public relations, and concentrated on developing the field in Japan. Writing in the Mainichi on what Japan needed to compete with the West, he stated: "Lack of effective public relations is Japan's biggest bottleneck in both business and diplomacy." In 1959, he published a pamphlet, PR wa anata no seikō to kōfukunokagaku [PR is the science of your success and happiness].
By 1957, he had become president of the Japan Institute of Public Relations, and three years later was listed as Director of the Institute of International Affairs and Foreign Trade. When actress and novelist Ilka Chase visited Japan around 1960, she was taken around Tokyo by Horiuchi. In her memoir of the trip, she praised her host: "He proved to be a merry fellow with a high-sounding job, president of the Japan International Public Relations Institute, and he had had a solid schooling in his profession via eight years in Hollywood."
In 1962, together with his wife Chiyo, Horiuchi founded the agency Socioatomic PR, which dealt with "Public Relations…Advertising, International Trade Fairs, Fashion Shows, Pamphlets , Goodwill Missions, etc." It was one of the first contemporary PR firms in Japan, and it served a variety of clients.
In 1967, Horiuchi was also recruited to direct a new Tokyo branch of the American PR firm Fred Kline Agency, Inc. Using contacts he forged with the J. Walter Thompson, he also did PR work for Richard Nixon and the Republican Party during the 1960 and 1968 election campaigns in the United States. The success of his public relations firm would eventually make Horiuchi a multimillionaire.
In tandem with his public relations business, Horiuchi worked as a journalist. In 1950, as mentioned, he published his prize-winning essay on the atomic age in Nippon Times. In the years that followed, he regularly contributed opinion pieces to the English-language newspaper Mainichi. In 1952, he gained widespread media attention when he published an article in Mainichi attacking the British attitude towards Japan. By the end of the 1950s, his newspaper columns began to be picked up via the Spadea Syndicate and syndicated in American newspapers. For example, "Hawaii's Star Symbol of Closer Asian Ties," his 1959 article on Hawaiian statehood and American relations with Asia, appeared in the Texas newspaper Austin American. His 1961 article "Races Must Live Together," appeared in the Spokane, Washington newspaper Spokesman-Review.
He also distributed his own work. He publicly offered his Japan Times article, "Kishi's American Trip and Public Opinion Diplomacy," a study of the visit to America by Japanese prime minister Nobusuke Kishi, to U.S. President Dwight Eisenhower. He achieved further fame for an opinion piece published in Mainichi in 1962, at time of international crisis in Laos. Embracing the "domino theory" that would dominate American thinking around the war in Vietnam, Horiuchi warned of the risks for Japan and the Free World that any Communist victory in Southeast Asia, as it would lead to a power shift in the region.
Horiuchi's two most notable journalistic pieces were published in 1957. First, his interview with Indian Prime Minister Jawaharlal Nehru, conducted during Nehru's state visit to Japan, was extracted in Japan Times and in Thought magazine. Meanwhile, at the time of a Nisei world conference in Japan, Horiuchi offered his thoughts on the future of the Nisei in an essay published in Japan Times and then in the Far Eastern Economic Review:
"With the world's gravest over-population problem, Japan must feed 90 million people—and over 100 million by 1970—in a small country only two-thirds the size of California, and in the future decades and centuries foreign trade and mass emigration will both be necessary for our people's existence. However, mass emigration depends upon the willingness of foreign nations to receive Japanese surplus population, which among other things depends upon the ability of the Nisei to be integrated into the land of their adoption. Nisei, who contributed much toward Japanese-American better understanding in the past…are playing an increasingly important role in the land of their adoption in the main arena. Nisei are truly pioneers of a new Japanese international race, which it is destined to become in the future centuries in the global Atomic-Socioatomic Age, as well as unique links of better understanding between Japanese-American and American-Asian neighbors in a world of neighbors."
Late in life, Yoshitaka Horiuchi authored a pair of self-published studies of race and international relations. Japan and Mankind at the Crossroads was published in 1977 by Vantage Press, which described the volume in its advertising as a "Challenging view of world problems and civilization by Japan's foremost expert on public relations and international relations." Two years later, with his son Koki Theodore Asakura as nominal co-author, he brought out the ambitiously titled work, Afro-Asian, Japanese, and Euro-American contributions to mankind and civilization yestermorrow.
In the two books, Horiuchi presented studies of international relations that were heavily marked by constant self-citation, crackpot racial notions (for example, the idea that similarities of language proved that Japanese and Hungarians were racially connected) and conspiracy theories about historical events such as the Pearl Harbor attack and the Yalta conference. Perhaps most remarkable about the books is their unapologetic Japanese nationalism. Horiuchi wrote an extended section defending the Japanese occupation of Manchuria and repeating the myth that Tokyo's wartime conquests in Asia were launched in fraternal spirit to liberate Asian peoples from Western colonialism. Perhaps not surprisingly, the self-published books failed to elicit reviews or serious comment.
Yoshitaka Horiuchi was almost 100 years old by the time of his death in 2008. He was by then long retired, but Socioatomic PR, the public relations firm that he founded, remained active and served to extend his legacy. By the time of his death, his career in Hollywood was long-forgotten, and Horiuchi had embraced his Japanese identity with a vengeance. In his books, he underlined the superior nature of Japanese culture, which he insisted was independent of (and indeed opposed to) Chinese and Western influences. As a result, his career stands as an example of the continuing influence of "old Japan" thought on Japanese Amercians.