Film Screening - Out of Infamy: Michi Nishiura Weglyn
National Center for the Preservation of Democracy
Tateuchi Democracy Forum
111 N Central Ave
Los Angeles, California, 90012
United States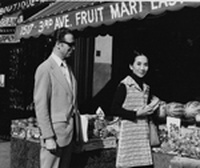 OUT OF INFAMY: MICHI NISHIURA WEGLYN
Dirs.: Nancy Kapitanoff, Sharon Yamato
After eight years as the costume designer for the Perry Como Show, Michi Nishiura Weglyn (1926-1999) gave up a successful career in show business in the mid-1960s to write the book, 'Years of Infamy: The Untold Story of America's Concentration Camps.' Providing factual evidence of governmental misconduct in the incarceration of Japanese Americans during World War II, the award-winning book, published in 1976, was hailed as the 'Bible of 20th Century Japanese Americans.'
'Out of Infamy' paints a portrait of Weglyn's dynamic personality, which evolved via incarceration in the Gila River, Arizona camp from California-born farm girl to New York City sophisticate to the Rosa Parks of Japanese Americans.

Video, 18 min., color/black & white, documentary
This film is one of 6 non-fiction works being shown by the Los Angeles Pacific Asian Film Festival's Program 47: Going Against the Grain.
Click here for more information about the slate of works that will be shown >>
Tickets are available at the site's box office:
$12 – General
$10 – Students, Seniors, & Members of VC/DGA/JACCC w/ I.D.

vkm . Last modified Jul 09, 2010 12:14 p.m.
---