Even though their population was very small, the Japanese in pre-war Chicago were still able to form various groups and organizations beginning just before the Columbian Exposition in 1893. One of the organizations which became a center for the Japanese community in pre-war Chicago,was the Japanese Young Men's Christian Institute (JYMCI), known as the Japanese YMCA by locals, led by Misaki Shimazu from 1908 to 1929. The roughly twenty years of activities of the JYMCI on behalf of local Japanese in Chicago were the fruitful outcome of continuous hard work not only by Misaki Shimazu, but also by his wife, Yone Shimazu.
Although her birth year is unknown, Yone Hara (maiden name of Yone Shimazu) must have been born in Japan between 18651 and 1870.2 Yone graduated from the English Speaking School for Japanese Young Ladies in Yokohama in June 1884,3 the same school Yasu Hishikawa, the first Japanese female medical doctor registered in Illinois, graduated from in 1878.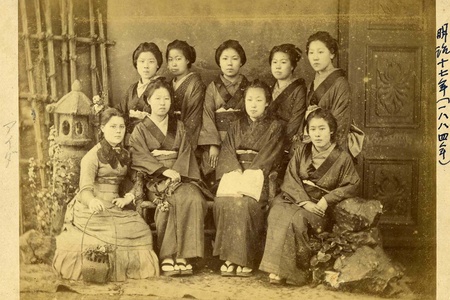 After graduation, Yone went to the Kawaguchi Concession in Osaka in January 1885 to work at the Wilmina School for Girls, which Alexander D. Hail and his brother founded in January 1884 for the Cumberland Presbyterian Church. Dr. Katsuji Kato of the University of Chicago also taught at the Wilmina School for Girls in 1903 before coming to the US in 1904.4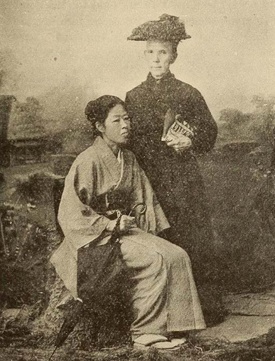 The first principal of the Wilmina School was America McCutchen Drennan, a Cumberland Presbyterian missionary who arrived in Osaka in April 1883. Yone worked as Drennan's interpreter and helper, and when, after four years serving as principle of Wilmina School for Girls, Drennan moved to Nagoya in 1888, then to Tsu and Shima, south of Nagoya, Yone went with her.5
When Drennan returned to the US in 1893 for a vacation, Yone accompanied her6 on a trip that brought Yone to Chicago for the first time in her life. Drennan and Yone visited the Columbian Exposition held in Chicago in 1893 and participated in the Cumberland Presbyterian presentation program during the Congress of Religions concurrently held in the Exposition, both making short addresses on "Missionary Work in Japan" in the session.7
After returning to Japan in August 1894, Yone resumed her work at the church in Tsu with Drennan. It was reported that Yone "was the strongest member, who had received instructions and acted under Drennan's guidance at the Tsu church."8 Elected deaconess, Yone continued the work she had learned from Drennan, such as visiting and teaching local people, holding women's meetings, leading teachers' meetings, and teaching Sunday School.9
Once Drennan's plan to permanently return to the US came to light, the Tsu church could not let go of Yone, as she was already assigned to the important role of Treasurer.10 Drennan left Japan in October 1902, after a farewell address by Yone at the Tsu church. Drennan died in June 1903 in Missouri at her childhood home,11 but even after Drennan's death, Yone kept working at the Tsu church. She reappeared in Chicago in 1908.
We can only speculate about why she returned to Chicago. One theory is that Yone may have traveled to the US with George Washington Van Horn of the Wilmina School, who was sent as a delegate and advisory member from the West Japan Mission to the One Hundred and Twenty First General Assembly of the Presbyterian Church of the United States of America held in Denver, Colorado, in May 1909.12
Another theory is that Yone came to the US with Mrs. Frank McMullin, whom Yone had met in Japan; Mrs. McMullin had encouraged Yone to come with her when she returned home in 1908.13 The McMullins were fans of Japan and Japanese and were "greatly in favor of Japanese help." Half of their ten or twelve servants were Japanese.14
At some point in 1909 Yone met Misaki Shimazu at the McMullin home in Highland Park.15 Although Yone was around forty-four years old and Shimazu in his early thirties, the two must have been kindred spirits. They were married at the First Baptist Church of Chicago in May 1910.
Although it is unknown whether Yone had known or met Katsuji Kato in Japan when Kato was a teacher at Wilmina Girls' School in Osaka, Kato might have been involved in bringing Yone and Shimazu together more quickly than might be expected. Kato was an active member of Shimazu's Japanese Christian circle in Chicago. Sixty-five guests, including local Japanese, faculty from the University of Chicago, dignitaries from the Consulate of Switzerland, and other friends were present at the Shimazu's eclectic wedding. The bride wore kimono and the service was conducted in two languages, with a Japanese bishop, Bishop Honda (who just happened to be in Chicago) presiding.16
From that point onward, Yone made an immense contribution to the development of the Japanese Christian community in Chicago through her work with Misaki Shimazu. While her husband focused more on management of the JYMCI as an organization, Yone devoted herself to helping Japanese women by providing education for children and encouraging local Japanese to assimilate into American society through participation in various events held in Chicago.
Notes:
1. 1930 census.
2. 1920 census.
3. Correspondence from Michiko Araki of the Doremus School to author, November 16, 2020.
4. Takako Day, "Kato Katsuji: From Spiritual Savior to Medical Professional," Discover Nikkei, February 20, 2022.
5. Henrietta Morton, Hands at rest, a sequel to "Filled hands"; the complete story of Mrs. A. M. Drennan's life and work in Japan, 1909.
6. Yomiuri Shimbun, January 25, 1922.
7. The Japan Weekly Mail, November 4, 1893.
8. Morton, page 117.
9. Ibid, page 122.
10. Ibid, page 123.
11. Ibid, Page 161.
12. Minutes of the General Assembly of the Presbyterian Church of the United States of America, New Series, Vol IX, No.2, August 1909, page 12.
13. Chicago Tribune, May 3, 1910.
14. Ibid.
15. Chicago Tribune, August 25, 1907.
16. Chicago Tribune, May 3, 1910.