In October 1944, soldiers of the 442nd Regimental Combat Team liberated the French villages of Bruyères, Belmont and Biffontaine just 20 months after the regiment was formed 80 years ago with majority Nisei (second-generation Japanese Americans) who had volunteered to prove their loyalty to a country that had labeled them as "enemy aliens," 4-C, ineligible for combat after Pearl Harbor.
Today, even after nearly eight decades, the people and children of these French villages in the remote Vosges forests of northern France still honor their friendship and promise not to forget the "little soldiers" with Asian faces who freed them in World War II and have become legends. French citizens vowed they would never forget that link.
Former Big Island State Sen. John Ushijima, who served with Cannon Company, recalled after presenting a wreath in Bruyères to mark the 50th anniversary of the liberation: "Bruyères is where the tears flow." An attorney, Ushijima served in the Hawai'i State Senate since statehood in 1959 and as its president for the last four years of his term. He died in 2006 at the age of 82.
The latest expression of their gratitude and remembrances is a nearly seven-minute video, Aloha, narrated by survivors of the towns of Bruyères and Biffontaine and by French school children who imagined what the soldiers must have experienced.
In the video Jacqueline Gérard, who was 15 years old when she hid in a cellar in Bruyères in October 1944, as the 442nd RCT soldiers liberated her village, says: "You must never forget – everything they did for us they did spontaneously. They did not know where they were going. They did not know what they were doing. They sent them like that, but I was happy to know them. And for you to go and see them more often to be told aloha."
She was scared then, but today she said she is thankful for what the soldiers did and still remembers them with fond memories.
The segregated, mostly Japanese American 442nd Regimental Combat Team, whose motto was "Go For Broke," was activated on Feb. 1, 1943, by President Franklin Roosevelt nearly a year after he signed Executive Order 9066. That order stripped 120,000 West Coast citizens, majority of Japanese ancestry, of all their possessions and forced them to live behind barbed-wire fences and armed guards in 10 mainland concentration camps in reaction to the surprise Japanese attack on the Pacific Fleet anchored at Pearl Harbor on Dec. 7, 1941.
About two-thirds of its initial 4,200 volunteers were from Hawai'i. The government had hoped to sign up just 1,500 but more than 10,000 men volunteered. On March 28, 1943, 2,645 volunteers stood in a farewell formation in front of 'Iolani Palace. More than 1,500 volunteered from America's concentration camps and began training with the Hawai'i volunteers at Camp Shelby in Mississippi in April 1943.
The soldiers arrived in Europe in May 1944 to fight in Europe. For two months in 1944, the 442nd RCT served under the 36th Infantry Division in northeastern France.
On Saturday, Oct. 14, 1944, Bruyères, located in the Vosges mountains near the German border, was a key railroad and road crossing that linked Epinal and Saint Die, an industrial, commercial and communications center. It was a strategic transportation and communications center when France fell to the Germans in June 1940. The village, which was built in the 6th century, had been under the control of SS German troops for four years. With the Nazi war effort failing in late 1944, Adolph Hitler had ordered his soldiers not to allow the allies to cross the Rhine River into Germany.
The tall pine forests that surround the villages reminded 442nd RCT chaplain Masao Yamada of the Japanese city of Nara in autumn, Masao Umezawa Duus wrote in her 1983 book, Unlikely Liberators. "From a distance, the landscape rolled like a beautiful painting. The red tile roofs of the scattered villages sat cozily in green valleys."
Chester Tanaka (3rd Battalion, Headquarters Company) in his 1962 book, Go For Broke, said to take Bruyères, the high ground had to be cleared. Bruyères lay in a valley bordered on three sides by four conical hills.
The four hills flanking the west, north and east sides of Bruyères were simply known as A, B, C, and D and had to be taken before the soldiers could liberate the town. The hills were covered with pine forests, Tanaka wrote. "The valley was open and clear to the observing eyes of the enemy occupying the hills." Fir trees towering 60 to 200 feet provided a canopy of cover for German snipers.
In 1944, the late fall weather was wet, lousy and cold. Near freezing rain at times would turn into light snow. The forests were thick and dark. Even if the soldiers couldn't see the enemy, they could hear them whenever they cocked their rifles. The cold autumn rain drenched uniforms, socks and boots, causing feet to swell.
Reading from the memoirs of Private First Class Sadao Hikida, U.S. Rep. Ed Case, at the 75th anniversary ceremonies in France celebrating the liberation of Bruyères in October 2019, recounted the battle:
"Fighting in the misty, dripping wet forest was tough. The Germans were well entrenched and camouflaged. They had an advantage because we had to climb up and down the hills to try flush them out. Many times, they spotted us before we contacted them, and we were caught in a blaze of machine gun and small arms fire. We had to watch out snipers, mines, booby traps, machine guns, artillery, tanks, and shell fragments as they burst. The enemy shells would hit the top of the pine trees and explode, sending down hundreds of knife-like steel and wood fragments. That caused a lot of casualties among the men."
Hikida, who served in 100th Infantry Battalion's Company A, was the uncle of Case's wife, Audrey.
After four days of house-to-house combat, the 442nd RCT and the 100th Infantry Battalion liberated the village of Bruyères and 10 days later, Biffontaine. Duus writes that of the 494 houses in Bruyères, 342 had sustained 30% damage and 23 were in ashes. The area's most valuable resource – its forests – were lost. The people of Bruyères had hid in their cellars, without electricity and nearly without food and water.
At an ever-increasing pace, the warriors are saying their last goodbyes, but their achievements and sacrifices are still remembered in France. Busloads of Japanese Americans from Hawai'i and the mainland, some carrying grandchildren who may have only heard of their grandfathers' exploits have made pilgrimages over the years.
The road that the 442nd RCT used to enter the town during the liberation of Bruyères is named after the unit, Rue de 442nd Regiment American D'Infantere. Bullet holes still riddle a church in the middle of the village.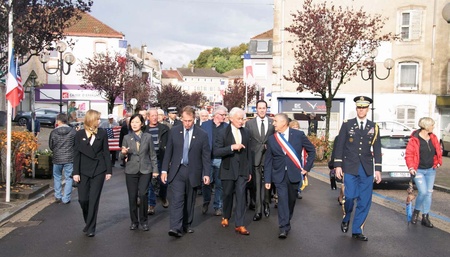 *This article was originally published in The Hawa'i Herald on March 3, 2023.