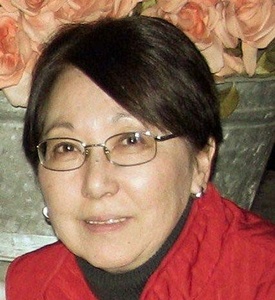 December 2022. When the year was about to end, we lost a great social scientist. Her name was Amelia Morimoto. As a researcher, she dedicated her career to the study of Japanese immigration to Peru. Her scholarly contributions have been significant from a historical standpoint and from the standpoint of various groups of immigrants who have come together and devoted themselves to the shaping of Peru today.
I met her way back in 1983, when we both happened to be at the First Seminar on Immigrant Populations. It was an event organized by Tito Rodríguez, a true promoter of research on the subject of immigration, which he invited and encouraged us to examine. Amelia's contributions have been immeasurable. She had an extensive résumé, which reflects the numerous works that she had written based on her meticulous and lengthy research. Her first work, Los inmigrantes japoneses en Perú [Japanese Immigrants in Peru] (1979) marked the beginning of her scholarly interests, and opened a path later followed by many others. In this sense, she has been a "pioneer" - she was among the first to scientifically analyze events that until then were only the subject of chronicles. Through this task, she coincided with the well-remembered Mary Fukumoto, who wrote a beautiful thesis on inter-ethnic relations in Quinta Heren, a microcosm of ethnic encounters in Lima at the beginning of the 20th century.
After her first work, Amelia carried out studies on demographics and occupations of immigrants of Japanese origin (1987); work that earned an edition in Japan: Peru no Nihonjin Imin (Tokyo 1992). She also addressed the systematization of documentary sources and a balance of the investigations; work that is a must-read for those interested. In 1999, she wrote La memoria del ojo [The Memory of the Eye] along with José Watanabe (a mutual friend, who also left us). 100 años de presencia japonesa en el Perú [100 Years of Japanese Presence in Peru], which was published by the Editorial Fund of the Congress of Peru. Her latest work has been about Los empresarios nikkei [The Japanese entrepreneurs], written in collaboration with Raúl Arakaki (2004). It is a chapter that is included in an invaluable volume titled Cuando oriente llegó a América [When the East Came to America]. This volume, which also deals with Chinese and Korean immigration and brings together studies carried out in several Latin American countries, is a product of an ambitious editorial effort that she directed.
In addition to her research, Amelia Morimoto participated in and supported various initiatives such as the Japanese Immigration Museum, the only museum that centers on immigrant groups in Peru in the current Republican era of the country (after the declaration of independence in 1824). This is a noteworthy fact as it was a great contribution to the conservation of the collective memory of an immigrant group as well as a part of Peruvian history. She has also been an active promoter of an important online community: Discover Nikkei, that she brought me into very generously.
It is impossible to include a full account of the work of Amelia Morimoto in this short article. In addition to the quality of her scholarship, I believe it is critical to highlight the warmth with which she carried out her work and transcended the academic framework. She had a distinguishable eagerness to collaborate with other scholars and to define her work as an effort to better understand the society in which we live. Something that was genuinely remarkable about her is that she included others in the work that was in progress and she was open to co-authorships which is rare in our field. Her co-authors include Eduardo Tokeshi, José Watanabe and Raúl Arakaki, among others. She was a true team player. It is also worth noting that she undertook postgraduate and doctoral studies later in her career than most others with the ambition of improving herself and acquiring more knowledge. I would also like to note that in addition to her analytical sharpness, Amelia possessed a kind of elegance and serenity that are typically treasured in Japanese culture which she had inherited and always kept close to her. This was something I appreciated and would point out to her from time to time.
Another trait that I would like to highlight is the open-mindedness that she had both mentally and thematically in terms of the investigation of migratory experiences from regions not limited to Japan. In our conversations, we drew parallels with the experience of Japanese, Chinese and European immigration. We would get together to analyze and share documents, such as those written by Antonello Gerbi, an Italian historian, who wrote multiple essays on the Japanese population in Peru when he lived there in the 1940s. Together, we were able to retrieve his writings which were previously little-known and some unpublished. Whenever she was convened she would always attend meetings with Italian researchers who had come to Lima to discuss the phenomenon of new migrations to Europe. We all shared the same attitude with Amelia: studying immigrant populations was a crucial part of the effort to study and understand Peru. Her expertise about this topic had no limits but it was open to other horizons. I believe that is the message that she leaves behind and I would like to emphasize the importance of such a perspective for all of us.
Amelia left us quietly and discretely which was very typical of her. I did not know of her passing until a few months ago when her sister called me and let me know the news. I finally understood why she didn't answer any of my recent calls - she was sick. Before her last moments she had asked her relatives to call me to tell me the news. This act is a pure manifestation of her graciousness and kindness; a respectful way to bid farewell. It was a touching goodbye and I appreciated it very much. Goodbye, Amelia, you have certainly left your mark on Peru. We lost an excellent historian and I lost a friend. We will always remember you.