The wartime incarceration of Japanese Americans resulted in thousands of former inmates migrating throughout the United States. Among the cities to welcome resettlers leaving camp, Chicago received the most. By the end of the war, over twenty thousand Japanese Americans called Chicago home, making it the second-largest Japanese American community in the United States. Although the exodus of Japanese Americans to Chicago was significantly smaller than the Great Migrations of African Americans from the South during the early 20th century, both movements shaped the dynamics of the city. Historians have studied the lives of Japanese Americans in Chicago and their struggles to adapt to a new life outside of the West Coast.
One element that has gone largely unnoticed by scholars, is the impact of resettlement on politics. As Japanese Americans moved to new cities on the West Coast and in the heartland of the United States as a byproduct of forced removal, they brought their own political perspectives and interests. In some cases, this shaped the careers of a new generation of politicians, who formed electoral alliances and strategically worked with new Japanese American communities. In Chicago, particulaly, Congressman Sidney Yates built his political career on working with Chicago's Japanese American community, and became one of the longest-serving Representatives in the history of Congress.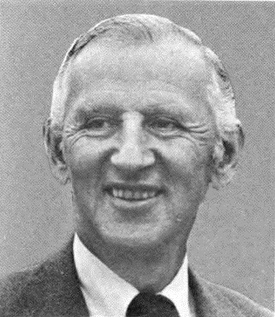 Sidney Yates was born on August 27, 1909 in Chicago, Illinois. The son of Lithuanian Jewish immigrants Louis and Ida Yates, Yates grew up in the north Chicago neighborhood of Lakeview.
In his youth, Yates was an avid basketball player. After graduating from the University of Chicago, Yates joined a semi-professional basketball team, the Lifschultz Fast Freights, as a point guard. The team went on barnstorming tours of the Midwest, playing teams such as the Tulsa Oilers and the Pittsburgh Steelers (not to be confused with the current NFL team).
After a short-lived basketball playing days, Yates began his legal studies. In 1933, Yates completed his law degree from the University of Chicago and took a job with the Illinois Commerce Commission.
Yates made several attempts to enter Chicago politics as a New Deal Democrat. He campaigned for Roosevelt in the 1936 and 1940 elections, going door to door to enlist Democratic support. In 1939, Yates unsuccessfully ran as alderman for the 46th ward. Following U.S. entry into World War II, Yates enlisted in the Navy as an officer. He was assigned as an attorney to the Bureau of Ships in Washington, D.C., and worked for the Navy's Judge Advocates General's corps.
Upon returning to Chicago in 1945, Yates began to prepare a bid for Congress. He decided upon Illinois's 9th District – located in the heart of Chicago – because of its status as a swing district that consisted of several immigrant communities. His opponent, House Republican Robert Twyman, concentrated his campaigning in the city's 45th Ward, which housed a large German-American community. Yates instead strategically campaigned throughout the African American, Japanese American, and Italian American communities of the 42nd Ward, putting forward a platform of civil rights and immigration reform.
Yates later recalled his sit-downs with Japanese American leaders during his campaign:
"I remember meeting with a Japanese-American group. We met in a little restaurant in an area that was called Little Tokyo (Clark Street south of Division). They had just come out of the camps in California. They wanted only one promise from me – that I would oppose Oriental exclusion laws, which prevented their parents from becoming citizens. I told them I couldn't promise anything, but that I wanted them to know that their goals were my goals: democratic liberty. And they went out and campaigned for me in that area."
Japanese American political leaders in Chicago were impressed by Yates and his interest in working with the community. Shigeo Wakamatsu, a Chicago JACL leader and future JACL president, recalled Yates for his genuine desire to help the community:
"He wasn't scared to appear before any group. Word got out that he's a candidate. Back home on the West Coast, what candidate would ever come to a Japanese American group to ask for support? We never got that kind of recognition. It was something new to us. Of course, it isn't new now. Both principals, we, as well as Sid, were genuine, that's how the relationship got started."
On November 2, 1948, Yates defeated Twyman by 18,000 votes, as part of a Democratic sweep of the House and Senate. Surprisingly, President Truman meanwhile won a second term--in Yates's home city the Chicago Daily Tribune newspaper famously printed in early editions of their November 3rd paper the false headline "Dewey Defeats Truman."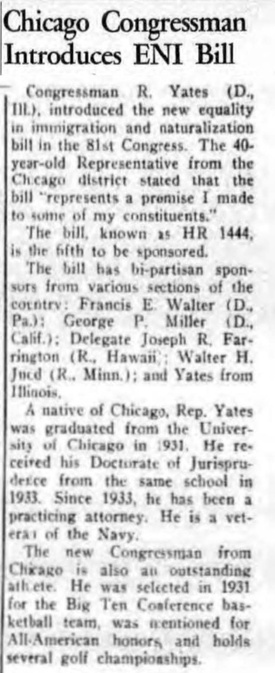 Immediately after his induction into the House of Representatives in 1949, Yates established himself as a passionate advocate for Japanese Americans. His first act in the House was to submit a bill that would permit Japanese immigrants to become U.S. citizens. The January 22, 1949 issue of the Pacific Citizen praised Yates for fulfilling his campaign promise, and noted that Yates's bill had bi-partisan support from Democrats and Republicans. A month later, Yates informed JACL Midwest representative Tats Kushida of his plan to challenge Chicago cemeteries that refused to bury Japanese American veterans. While the bill passed the House on several occasions, the Senate refused to pass the bill, and it eventually died on the Senate floor.
As a freshman congressman, Yates joined the House Appropriations Committee. In the early years of his tenure, Yates participated in several Cold War initiatives, including the passage of Marshall Plan funding for Western European states.
Like other Democrats in Congress, Yates was deeply disturbed by the rise of McCarthyism. In 1950, following the outbreak of what was to become the Korean war, the McCarran Internal Security Act was introduced in Congress. The act allowed the government to deport foreign nationals suspected of communist leanings, and following its passage led to the immediate deportation of 3000 nationals living in the U.S. The Act's Title II allowed for the detainment of "subversive" individuals in concentration camps at the request of the President or Attorney General. Yates voted against the bill (which was ultimately enacted over President Truman's veto).
Right-wing newspapers such as the Chicago Daily Tribune viciously accused Yates of being against communists only "in Korea" and not at home. As historian Masumi Izumi notes in her book The Rise and Fall of America's Concentration Camp Law, the bill's authors drew inspiration from the wartime incarceration of Japanese Americans, and selected Tule Lake as a potential site for a camp. Yates would go on to organize a repeal campaign for the law in 1971.
Throughout his tenure as a Congressman, Yates remained connected to the Japanese American community of Chicago. One of Yates's closest advisors was the Reverend Jitsuo Morikawa. A Japanese Canadian who immigrated to the U.S. and was incarcerated at Poston concentration camp, Morikawa was engaged afterwards as Chicago's first Baptist pastor of Japanese ancestry. Morikawa lobbied Yates on several occasions to sponsor legislation to provide Japanese war brides coming to Chicago with exemptions from American immigration restrictions.
Meanwhile, through Morikawa, Yates met JACL lobbyist Mike Masaoka. Yates found an ally in Masaoka, who supported his campaigns, even as Masaoka approached Yates on several occasions for help with pushing key legislation through Congress. In addition to immigration reform, Masaoka called on Yates to sponsor several private bills to grant worthy individuals exemption from immigration laws. In most cases, the bills were intended to protect Japanese war brides who could not naturalize as U.S. citizens and thereby faced deportation. Until 1951, the U.S. Armed Forces discouraged American GIs from marrying Japanese war brides and banned married couples from entering the United States.
One such private bill that Yates authored was for Ayako Kurihara, the war bride of MIS soldier Steve Sugano. Originally incarcerated at Gila River incarceration camp, Steve came to Chicago in 1943 to work at his brother George's chick sexing firm, the National Chick Sexing Association and School. The firm became known as a popular employer for Japanese Americans resettling in the city.
Starting in 1945, Sugano served in postwar Japan as an Army translator, where he met his wife. At the suggestion of Masaoka, Sugano approached Yates upon returning to the U.S. from active duty in 1949 in hopes of obtaining a private bill that would allow his wife to enter the U.S. Within months, Yates successfully pushed a private bill permitting Sugano's wife to reside in the U.S. through the House Judiciary Committee. After successfully lobbying his colleagues in the Senate for approval, Yates delivered the bill to President Truman's desk for his signature. On August 8, 1950, the Chicago Tribune announced that Steve and Ayako Sugano were successfully married in Chicago, thanks to Yates's bill.
Based on the success of the Sugano case, Masaoka forwarded to Yates the case of Frank Endo. A Nisei originally from Terminal Island who had been incarcerated at the Amache concentration camp, Endo enlisted in the Army's Military Intelligence Service in 1944. After the surrender of Japan in September 1945, the Army assigned Endo to work as a translator with General Headquarters in Tokyo.
During his time in Japan, Endo became engaged to Mieko Nishitsuru, a Japanese woman employed by the American school of Osaka. In February 1950, Endo wrote to Masaoka and Reverend Morikawa for advice. Both encouraged him to contact Yates to request a private bill. By the end of the month, Yates introduced a private bill before the House Judiciary Committee, and within weeks the bill moved to the Senate Judiciary Committee. As part of the hearing process for the bill, Endo submitted several letters from friends and employers. One such letter was written by Takashi Kondo, a gymnast who had once participated in the 1932 Olympics with the Japanese National Team.
On June 9, 1950, the Senate approved Endo's bill, and on June 20th President Truman signed the bill, permitting Endo to marry his fiancé and travel together to the U.S. Masaoka and Morikawa applauded Yates for his leadership in pushing Endo's case. In October 1950, the Shikago Shinpo proclaimed that Yates "has sponsored more private bills on behalf of Japanese-Americans than any other Congressman in Washington."