Terry Takeuchi is the owner and self-described "homeboy cook" at one of the most beloved Bellevue restaurants, Terry's Kitchen. While he is the nightly chef in the kitchen, he never misses the opportunity to personally welcome guests at his restaurant, which is a second home for many. Having weathered the pandemic for the past two years, thanks to tremendous community love for him and his "home comfort food," he hopes to be with us for a very long time.
* * * * *
Tell us about your family growing up "in the hood" throughout Central and South Seattle.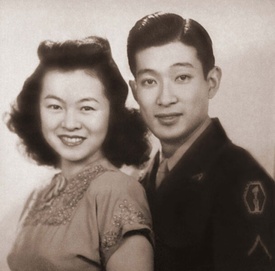 My Nisei (second-generation) parents Shigeo "Conc" Takeuchi and Yukiye "Betty"' Mogi married and settled in Seattle's Central District near Garfield High School after World War II where they raised four boys, Gary, Rick, Bryan, and myself. Our family lived in two apartments before later moving into a home in the Rainier Beach neighborhood of south Seattle, where I attended high school. The first one was at 19th and Pine and the second one was at 20th and Marion.
My dad's parents, Yoshitsugu and Mitsue Takeuchi, were from Fukushima Prefecture as were my mother's parents, Senji and Mitsui Mogi.
My dad's family resided in Puyallup and my mom's family lived in Tacoma. Due to wartime hysteria during WWII, my father and mother's families were incarcerated at Minidoka and Tule Lake respectively.
After the war, my dad worked various jobs starting on Seattle's waterfront for Main Fish, then Imperial Lanes bowling alley, and bartending at a few restaurants in "Chinatown" (now Chinatown/International District/CID). My mom stayed busy at home raising my brothers and me. Once we grew older, she held jobs at the Seafirst Bank branch in Chinatown, the YMCA in the Central District, and later retired from Boeing.
I started school at T.T. Minor Elementary and went to Immaculate Conception for middle school. Later, my family moved to south Seattle where I graduated from Rainier Beach High School.
Although my dad worked hard to support our family, I know my mother worked even harder raising my brothers and me — especially me as I earned the nickname "Terrible Terry" because of my high energy and knack for getting into trouble!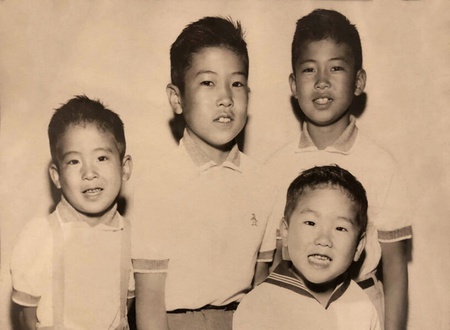 I am definitely more like my mom because we both loved cooking and enjoyed eating different ethnic foods. Because my family moved around to various areas of Seattle's inner city, I was exposed to ethnic diversity and my friends and their families embraced me as one of their own. I was able to enjoy home-cooked meals like Southern gumbo, BBQ ribs and chicken, Filipino pancit and adobo, to name a few.
Eating my mom's cooking and sharing meals at friends' homes and gatherings started my love of "home-cooked comfort food." And I hate to admit it, but some of my favorite comfort foods back then were the frozen TV dinners and chicken and turkey pot pies!


Do you have any special memories growing up in inner-city Seattle?
Back in the mid-60s, I was practicing at Garfield Playfield with my Little League baseball team, the Cavaliers. Suddenly, a white limousine appeared next to the field and out stepped a tall, good looking man. As it turns out, that man was in town for business and decided to check out kids playing in "the hood."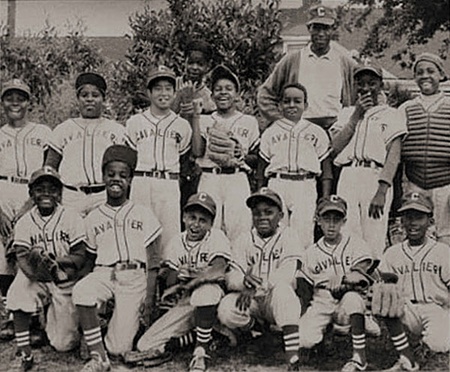 We suddenly learned that "the man" was Cassius Clay, later known as Muhammad Ali! He grabbed a bat and stepped up to the plate. I was pitching at that time and tried really hard to strike him out. After he took a few swings and missed, my coach, Mr. Banks, gave me the hook and put me in the outfield as he then proceeded to let Clay hit away at soft pitches.
Now when I think about it, I could've been the only Japanese American kid to have ever struck out "The Greatest of All Time!"
My dad worked at the front desk at Imperial Lanes, and at early ages my brothers and I were able to hang out while my dad worked. We bowled, played pool, met friends and enjoyed Harry Imamura's scrumptious hamburgers and "Imperial Mix-Up" fried rice from the bowling alley restaurant. I never forgot about Harry's Imperial Mix-Up as the years went by.
I played in the Seattle Imperials Drum & Bugle Corps horn section that was comprised mostly of Japanese Americans. The hard work, perseverance, and teamwork I learned from the Corps competitions were strong traits that have stayed with me today.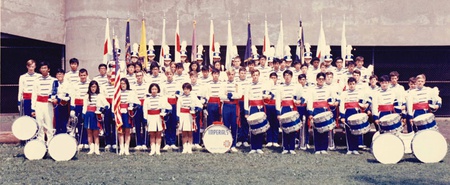 Another great aspect of growing up in the inner city was the local music scene. I played in the horn section for a local R&B band, "Tamaraw." Playing in Tamaraw was quite an experience since I was still a minor at the time. A band highlight for me was being the opening band for "Tower of Power" in Bellevue in the early 1970s. What a great time!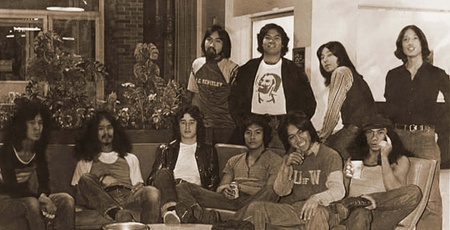 Tell us about your previous work career and how you fell into the idea of starting a restaurant.
During my 20s, I worked as a dental technician for a short time, then became employed by Seattle City Light's Conservation Department. I forged long-lasting friendships and retired after 31 years in 2014. Little did my coworkers know they were my unofficial test-kitchen participants during all of our City Light potluck meals!
Around that same time, I volunteered to help during the Nisei Veteran Committee's (NVC) luncheons with the urging of their Luncheon Coordinator, Bev Kashino. Initially, I was the dishwasher, but after a year, I became the main kitchen volunteer cook. It was instant on-the-job training learning to shop/prep/cook for large groups.
But culinary knowledge was not the most important awareness I gained from being affiliated with the NVC.
I finally started to absorb the history and many sacrifices the Issei (first generation) and Nisei endured during WWII. My family and relatives did not discuss their "camp" experiences, nor fighting as soldiers in the decorated Japanese American US Army 442nd regiment. It's an important part of US history that we must learn from and pass on to future generations to never forget.
After our weekly bowling league, we would meet friends at South China restaurant on Beacon Hill for late-night food and drinks, which is how I became acquainted with co-owners Sid and Dan Ko. When South China relocated to Bellevue in 2004, I continued to patronize the restaurant. Both Sid and Dan were generous in letting me help cook and hone my cooking skills during their fundraising events. I became familiar with how a kitchen functions, communication between the wait and cook staff, meal prep in large quantities, etc.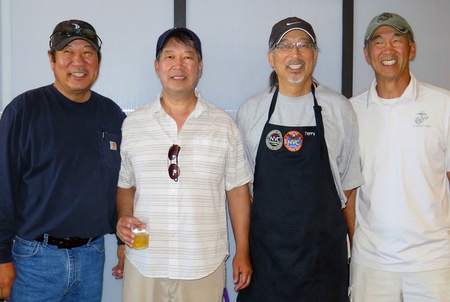 When South China eventually closed in 2014, I never forgot their iconic garlic chicken wings and I greatly missed my second home hangout and watering hole.
Shortly thereafter, a business opportunity arose where I could put my cooking skills to use. When thinking about different foods for a menu, I would think about the foods from my favorite restaurants that had closed over the years — places like Mikado, Aya's, Miyako, 300 Cafe — to name a few. I had a gut feeling that offering some of the same comfort foods which I grew up with could appeal to a larger audience.
So with the help of an old family friend and restaurant consultant, Taylor Terao, we assembled a comfort food menu offering a little bit of everything that brought back warm food memories of my past, including Imperial Mix-Up and garlic chicken wings!
Terry's Kitchen opened in Bellevue's Newport Hill's neighborhood in July 2017, with help from my supportive business partner Kathy Miyauchi, generous sponsors and supporters who believed in my vision, along with talented and devoted cooks, friendly servers, and dedicated office and design staff.
To be continued ...
*This article was originally published in The North American Post on March 26, 2022.