Kenji Suematsu was living with his parents and siblings in Costa Mesa, California at the outbreak of World War II. His father, an immigrant farmer from Japan, was apprehended by the FBI shortly after the bombing of Pearl Harbor. His mother, suddenly alone with her three children and an uncertain future, suffered a nervous breakdown.
In a panic to get out of Costa Mesa, Kenji's mother instructed him to drive the family car. He was six years old at the time, and had no idea what he was doing. Decades later, he recalled in an interview with Densho:
"She had me sit behind the steering wheel of the car…and gave me the car keys and [said], 'Get the car started so we can get going.'"1
As the car began to roll out of control, a neighbor intervened and called for help. The mother was determined unfit to care for her children and sent to a sanatorium in San Bernardino, while her children—suddenly orphaned by circumstance—were sent to a home for Japanese American children in Los Angeles.
Stories like Kenji's show that family separation during Japanese American WWII incarceration didn't follow the script we've seen at other times in history. There were no auction blocks, no boarding schools, no deliberate separation and shuffling between detention sites at the border. Nevertheless, many Japanese American children still faced family separation as the US hastened to contain an imagined enemy hiding out along its Western coast.
Many cases of family separation involved children being separated from fathers who had been swept up in the raids that targeted community leaders, language teachers, and others whose activities had landed them on an FBI watchlist. But in some cases, children lost or were separated from both parents. For them, the US Government made special accommodations in the Manzanar Children's Village, an orphanage inside one of the ten US War Relocation Authority (WRA) concentration camps.


The Shonien
Like many wartime orphans, Kenji Suematsu's experience of separation was not an isolated incident, but rather a painful pattern repeated in different iterations over the course of his childhood. Upon arrival at the Shonien—a Los Angeles orphanage run by and for Japanese Americans—he was separated from his siblings because they fell into different age groups. Though he wasn't able to see his own family, he began to form bonds with the other children.
But the Shonien itself was undergoing major upheaval. The home's founder and director, Rokuichi "Joy" Kusumoto was, like Kenji's father, arrested in the initial FBI sweeps following Pearl Harbor. He was sent first to an internment camp in Missoula, Montana and later deported to Japan where he died in obscurity.2
After President Roosevelt signed Executive Order 9066 on February 19, 1942, it was initially unclear whether the staff of the Japanese American orphanages would be incarcerated along with over 100,000 of their West Coast brethren. Harry and Lillian Matsumoto, a married couple that had taken over the Shonien after Kusumoto's arrest, advocated for keeping the children with their caretakers in Los Angeles in order to maintain some semblance of normalcy and structure.3
Despite pleas to allow the children to remain with their known caretakers in the Shonien for the duration of the war, the residents of the home were issued their own exclusion order by Col. Karl R. Bendetsen on April 28, 1942.4 Heeding the calls to keep the children together, the WRA established a prison specifically for orphaned children, known euphemistically as the "Children's Village" within the confines of California's Manzanar concentration camp.


"A Very Lonely Place and Sad Too"
So in June 1942, Kenji and just over one hundred other children who posed some phantom threat to national security were relocated to Manzanar. Some were as young as six months old; many had living parents or relatives who were being detained elsewhere.
Because the government was liberal in its definition of who counted as Japanese American, some of the mixed race detainees had had little to no association with the community they were now imprisoned with. Dennis Bambauer, for example, a blond haired, blue eyed boy residing in another Los Angeles-area orphanage did not even know he was Japanese American until someone checked his file and turned him in.5 There was also the case of two half Japanese girls whose white grandmother voluntarily surrendered them to authorities.6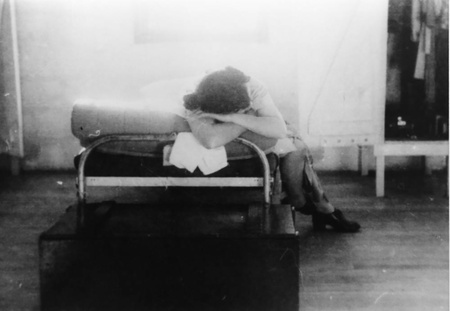 Also included in this unfortunate lot were the children of Minnie Shirai, an Alaska Native woman married to a man of mixed Indigenous and Japanese ancestry.7 While she was hospitalized in a tuberculosis sanatorium, her husband was incarcerated at Minidoka and their "orphaned" children sent alone to Manzanar. During their separation, Minnie was unable to communicate with her children or get adequate updates on their wellbeing from orphanage administrators.
In a letter to the WRA she wrote, "What's this all about? I never hear from my children for quite a while now! Will you please let me know why? I am very much worried about my children." And later followed with, "I'm going to be kicked out for crying to[o] much. How can any person get well when they are worried [and] lonesome."8
The population of the Children's Village would continue to grow as the war continued: more children arriving from West Coast orphanages, babies born to young mothers out of wedlock, and others orphaned by the death of their parents during their incarceration.
Although the Children's Village was housed within the larger concentration camp, the orphans were not permitted to interact with the general population except at school. Kenji recalled being told that they would get shot if they moved too close to the fence.
Francis Honda was seven when he arrived there. Years later, in 1981, he testified for the Commission on Wartime Relocation and Internment of Civilians hearings, and recalled: "It was a very lonely place and sad too, with babies crying and nothing to do. It was like the end of the world for me."9
Despite being kept separate, there were clear overlaps in the underlying agendas of the orphanage and the broader concentration camp system.
Once Manzanar was up and running, the WRA made swift work of educating the orphans to be model citizens, just as they worked to transform all detainees into "loyal" Americans.
As the Manzanar Free Press reported, "Each child was instructed in the fundamental duties of housekeeping according to age and to strength while the value of money and its uses were taught by means of providing each child with spending money, and a savings account."10
Harry Matsumoto was himself a Christian and, in keeping with other social reformers of his day, believed that a good "Christian upbringing" was the best way to set indigent children up for success. "We realize that our children must be taught to become good citizens of the country of their birth and to believe in the Christian way of life."11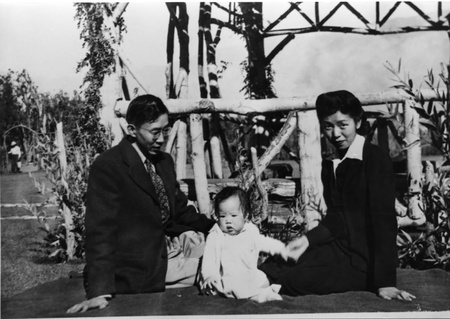 Matsumoto's views were informed by his religious beliefs but also reflected a vein of assimilationist thinking adopted by some Japanese Americans during WWII. While this might now be understood as survivalism, attempts to emulate "loyal" (read white) American values were highly controversial during WWII and have resulted in lingering divisions in the Japanese American community.
This assimilationist thinking was not unique to Japanese American history, of course. Native American boarding schools were also infamous sites of acculturation. The boarding school system is unparalleled in its longevity and in the systematic violence used to mold Indigenous youth into an ideal American citizenry, but it's still important to note that this kind of indoctrination is a current that runs through much of our country's history.
Notes:
1. Suematsu, "Interview."
2. Catherine Irwin. "Manzanar Children's Village," Densho Encyclopedia (accessed Oct 12 2021).
3. Lisa Nobe, "The Children's Village at Manzanar: The World War II Eviction and Detention of Japanese American Orphans," Journal of the West 38, no. 2, 66.
4. Renee Tawa. "Childhood Lost: the Orphans of Manzanar," The Los Angeles Times, Los Angeles, CA, March 11, 1997 (accessed online Sept 21 2021)
5. Nobe, 69.
6. Tawa, Ibid.
7. Hana Maruyama, "What Remains: Japanese American World War II Incarceration in Relation to American Indian Dispossession," (doctoral dissertation, University of Minnesota, 2021), 292.
8. Maruyama, 297-298.
9. Tawa, Ibid.
10. "Children's Village Slated to Close End of August," Manzanar Free Press, 7, No. 13, August 18, 1945, (accessed online Sept 21 2021)
11. Nobe, 68.
*This post was originally cross-published by Densho and Tropics of Meta: Historiography for the Masses.