WINNIPEG — Considered one of the most successful high school coaches in Manitoba's history, with an over 45-year coaching career, Randy Kusano was inducted into the Manitoba Basketball Hall of Fame's Class of 2021.
"It's very special, it's a sport I've been involved in for a long, long time," Kusano tells Nikkei Voice in an interview. "I'm a bit of a history buff when it comes to basketball in Winnipeg and Manitoba. I know who has gone in before me, and to join those kinds of people is quite an honour for me."
Working for 35 years at Oak Park High School as a physical education teacher, Kusano started shortly after the school opened in 1976. Coaching the varsity boys basketball program, he led the team to 17 final fours, winning three provincial championships and garnering over 800 wins in his career.
Kusano joins his former coach Dennis Alvestad in the hall of fame. At Norberry Junior High in St. Vital, MB, Alvestad, along with Ron Koskie, introduced Kusano to basketball, encouraging and nourishing his skills. Dennis Wilson, Kusano's high school coach at Glenlawn Collegiate and another hall-of-famer, also influenced his career as a coach and the two remain friends to this day.
"They had a huge impact on me, first just because they are great people. I had them as teachers and coaches, and I call them my life changers," says Kusano.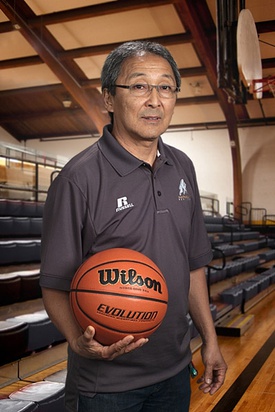 Good communication with his players is at the root of his success, says Kusano, drawing on his background as a phys-ed teacher. Kusano remembers how Alvestad, Koskie, and Wilson always treated him with respect and treats his players the same way. Starting with a stricter and firmer coaching style, Kusano says he has softened up quite a bit over the years. There's a fine line in pushing players while still treating them with respect. It starts with having a good relationship with your players, so they trust when you push them, says Kusano.
"I used to watch all the best coaches here in Manitoba and try to copy them a little bit, but eventually you realize you have to be yourself," says Kusano. "After a while, you think back and try to determine what kind of coach you want to be. You want to be someone you'd like your kids to be coached by. You want to see your kids treated well and with respect."
Kusano's coaching has been recognized with various awards throughout his career, including the Manitoba High School Athletic Association Coach of the Year in 2007 and the Mike Spack Award for career contributions to basketball in Manitoba. A real sense of pride for Kusano are the players he coached who have gone on to play at the Canadian College or CIS level and the provincial teams that have competed at the Canada Games, Western Canada Games, and National Championships.
This was not Kusano's first time being inducted into a hall of fame. In 2011, the 1976 University of Manitoba Bisons team was inducted into the Manitoba Sports Hall of Fame. Kusano was a part of the team that won the National University Championships.
While Kusano is modest about his time on the team, it was the first time a team from Manitoba won the national championships. The team, made of players all from Manitoba, remain friends to this day.
"I got to play with some of the best basketball players who have ever played in this province, and we were very successful as a team," says Kusano.
A couple of inches over five feet, Kusano saw less playing time further in his career, as other players began to surpass him in size. It was tough to take at the time, but it pushed him to work harder and make the most of his time on the court, he says. The experience is something Kusano took into his coaching for other players who feel discouraged from their low playing time.
"Kids that didn't play a lot, I tell them I know how you feel, because that's where I came from. But I also encourage and tell them that they have a valuable role on the team," he says.
After retiring from Oak Park in 2010, Kusano continues to coach with Basketball Manitoba. He coaches the Under-17 Provincial Girls team and recruiting high-performance athletes. Kusano aids in coaching clinics and mentoring programs, training a new generation of basketball coaches, and doesn't show any signs of slowing down.
"It just gives me energy and motivation to get out. I'm not young, but I think working with young people keeps you young mentally. They're funny, they keep you relevant, and they're great to work with, I learn from them, and I love it."
After 45 years of coaching, when asked what has been the most fulfilling part of his career, he says the answer is easy.
"It's the friendships with other coaches, players, and ex-players. A lot of my friendship groups revolve around basketball. We've remained close for many, many years, and I don't think that's going to change anytime soon. It's been a great experience for me. I've been really lucky," he says.
* * * * *
*This article was originally published on the Nikkei Voice on June 21, 2021.