Can you talk a bit about your career as an artist? When did you become conscious of wanting to be one?
I was always good at art. In Japan I used to receive awards and special display status in public school. I was very confident about the art I made. Even after arriving in Toronto, my classmates used to gather around me to watch me make art.
My grade 13 art teacher at Parkdale Collegiate Institute, Mr. Crawford, encouraged me to apply to the Ontario College of Art (now Ontario College of Art and Design University) in Toronto. Around that time, I was interested in architecture and design.
What happened from then on?
During my second year at OCA, the new president Roy Ascot came in to change the whole teaching method and curriculum. He believed that we should all be a "Universal Being". He abolished all the departments within the art college. The school was in chaos; many students couldn't handle the sudden upheaval. But it suited me fine! The new set up gave me a chance to be awakened to many different ways of understanding and reasoning.
During this period, I met Nobuo Kubota, Gus Weisman, Udo Kasemets, Michael Snow, Ron Martin, and art historian Joyce Zemans.
Were you always focused on being an artist?
I was always focused on making art, and remained interested in architecture, design, photography, and music.
What would your mother think about the AGO purchasing your art?
She would be very proud!
Can you reflect a bit on your connection with the JC community?
I was not always connected to the JC community. The Japanese Canadian Centennial year of 1977 was a key event for many of us. I had worked on Tora Magazine very briefly with a few Sanseis in the 70s but prior to that I never had a chance to socialize with other JCs until the Centennial year. I remember feeling odd when a few of us met for the first time with other JC artists to discuss the planning of the Centennial art exhibition. The meeting was held at Kazuo Nakamura's residence.
Can you talk a bit about your interconnections with the JC community?
I got to know artists and their works through the Centennial Art exhibition, organized and circulated around Ontario by the National Gallery of Canada.
The creation of the Annex, a drop-in centre for the young Sanseis and Yonseis right on the Toronto subway line became another outlet for meeting interesting people of JC origin. Oddly enough there were many artists involved in the formation of the Annex.
During the 80s my social connections with the JCs were quite strong for the first time. There were numerous events being organized with artistic circles in mind.
I got invitations to have my works included in other JC art exhibits such as Shikata Ga Nai (1987) and Visions of Power: Contemporary Art by First Nations, Inuit and Japanese Canadians (1991).
In 1988, David Fujino and I organized Today Show: Contemporary Art by Japanese Canadians for the Japanese Canadian Cultural Centre in Toronto. As part of the exhibition, we invited JC poets. musicians, contemporary dances, and filmmakers to be exposed to the JCCC which had been strongly known for retaining traditional Japanese arts in their programming.
Were there any mentors or artists who were particularly influential?
While attending the Ontario College of Art, I made a point of connecting mostly with artists/instructors who were exhibiting regularly. One of them was Nobuo Kubota. I invited him to be on my critique panel at the end of each year to get my grade.
I thought first and foremost that Nobuo Kubota was an interesting artist. The fact that he was a Japanese Canadian was secondary; he just happened to be a person of Japanese descent.
One summer afternoon, I bumped into him at the corner of Queen and McCaul streets in Toronto, just south of OCA. That afternoon he spoke about how he had been spending his time as an artist; his stay at a Kyoto Zen monastery, his involvement with Artists' Jazz Band, experimental sound making, but also he talked about his loss of interests in architecture which he studied at the University of Toronto.
All in all, he told me that he was having a great time and that he was very happy with what he was doing. I thought his lifestyle was very unique and different from mine.
Does being born in Japan inform your art in different ways than JC artists born here?
When people look at my work, many of them make connections to "Zen". I am guessing that that would be the easiest way to approach my work. The aspect of Zen comes in because of the contemplative expression of serenity and spirituality in my works. Some JC artists were exposed to the traditional arts such as sumie paintings as they were growing up. You can see this influence in their brush strokes and the use of washi paper.
How do you self identify culturally? What does "Japanese Canadian" mean to you?
I was born in Japan and lived there until I was 12 years old. Therefore, I was familiar with the culture and the customs that I grew up with. As I grew older my interests in traditional values of Japanese culture intensified. I get my inspirations from Japanese culture, the culture that still continues to intrigue and fascinate me. Being Japanese Canadian means I am a product of the two cultural diversities. I am in a unique situation to create something exclusive and unique.
I like the term "Artless Art" that you use to describe your work. Would you mind explaining what that means?
After gaining technical know-how related to the realization of an idea, the doing becomes physically embedded in you. Therefore, it becomes part of your natural behaviour. Hence it is no longer "art-making-process"; just another sequence of your everyday activity. One's behaviour becomes intuitive and natural. Japanese martial art such as kendo follows similar principles.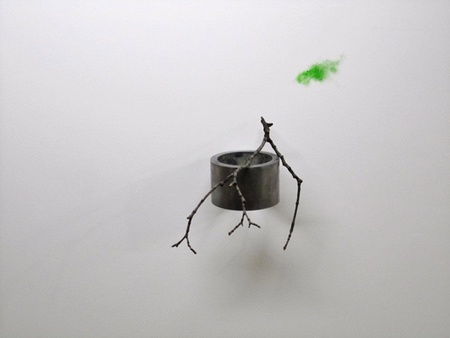 Is there an element of 'satori' to it? What about 'wabi sabi'?
My understanding of "satori" is enlightenment. Enlightenment to me, is "to be at peace with oneself", attaining happiness, contentment by appreciating very simple everyday occurrences.
I am attracted by the Japanese aesthetics called "wabi-sabi". One aspect of "wabi-sabi" is imperfection. I find that this idea in itself is so absurd, yet it is captivating and original. What else could be more natural than "imperfection". For this reason, I love Bizen and Shigaraki ceramic wares.
Are you Buddhist?
I am a Buddhist. I follow Jodo Shinshu Buddhism. I try to attend memorial services and enjoy listening to Buddhist Chants and Dharma talks. I feel that it establishes stability in me to connect with my parents and my sister. I enjoy visiting shrines any chance I get when travelling throughout Japan. A few years ago my wife and I went to the Ise Shrine. This is the most sacred shrine in all of Japan. You feel the origin of the spirituality that purifies and protects the land of Japan. Recently we walked the parts of Kumano Kodo. This pilgrimage was established over a thousand years ago. You can't help but to feel the spirits of the people who had walked it, and the aura of the trails themselves.
Are there North American Minimalist artists who are particularly influential?
During my studies at the OCA, I was introduced to the North American Minimalist movement. There were artists such as Donald Judd, Carl Andre, Ellsworth Kelly, Dan Flavin, Agnes Martin, and Robert Mangold. Their view of art making was to produce purified form of beauty and truth. They were not interested in emotional abstract and expressionistic agendas and social messages. I can identify with their motives; to strip away any excessiveness and to deal only with the essence of the matter.
If I describe your work as distinctly "Japanese", does that make sense to you?
To describe my art being distinctly "Japanese" doesn't make sense to me. I grew up and was educated in Canada. Hence, I have been influenced by North American and European culture.
Is there anything in particular about Japanese Canadian art that makes it so?
Japanese Canadian artists are all very unique artists. We are all dealing with individual conceptual agendas. There is no common ground amongst us that would tie us all together to call it 'JC Art'.
What are the next steps for you as an artist?
I would like to see an exhibition using my recent installation pieces which have not had a chance to be shown. These works would focus on the idea of "Ichigo Ichie" – nothing is permanent, each and every moment is once in a lifetime experience. A few years ago I was given the opportunity to spend some time at the Banff Arts Centre. This time, I would like to return to Kyoto to collect my thoughts once again.


Check out akirayoshikawa.com for more information