Former Nelson Star editor, Greg Nesteroff, on January 21, 2015, wrote an article on names of Japanese Canadians scratched on the wall of the old 'Slocan Hall' or Legion/Oddfellows Hall. This building was undergoing renovation to expand the kitchen. As the contractors were peeling off the asphalt of the building, they could see the names of Japanese Canadians who were probably young teens during the internment years around 1944 or 1945. Only a handful of names were legible. The clearest one was very stylish according to Greg, "Sam Miyashita, Popoff, Slocan". Popoff was one of the internment camps south of Slocan City. Others were Lemon Creek and Bay Farm. There was also "Akiko M"; what looks like Teddy Y + Miyaka. They could have been going steady or Teddy may have had a crush on Miyaka. Some of the obscured names were: Saku or Takei Sano; and a nickname "Yasy". Who might these kids be? They were probably young teens who couldn't get into the hall when dances were held on special occasion like Valentine's Day or Easter.
Greg went on a quest to find out. He first contacted me if I knew these 'kids', and if they were still alive and well. Since I was from Greenwood, I didn't recognize any of these names. I joked to Greg that these were graffiti. It was common back in those days since most of the boys carried pocket knives. Luckily, I have a great resource person, Lisa Uyeda, at Nikkei National Museum. Being from Toronto, Lisa had contacts at the Japanese Canadian Cultural Centre.
In a short time, Elizabeth Fujita who ran the Sedai project "dedicated to collecting and preserving the stories of Japanese ancestry for all future generation" revealed the mystery of Sam Miyashita. She told us that Sam (Suyeo) died November 14, 2014 at the age of 84, and he is survived by two daughters. Sam must have been very well-liked since many people attended his funeral. Unfortunately, Greg stated, "In an eerie coincidence, the signature he placed on the Slocan Legion when he was a teenager was uncovered two weeks after his passing."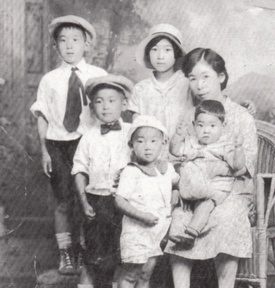 Initially, Greg and I had a difficult time tracking Sam Miyashita on the internet. Sam had changed his surname, and he went by the name of Sam Sueshi Miya. We found out that Sam was born in Vancouver, moved to Steveston, and the family was interned in Kaslo. After three years, the family was sent to Popoff. With the federal government's ultimatum of "Go East of the Rockies or 'Repatriate' to Japan in 1945, the Miyashitas decided to move to Toronto. End of story?
Fast-forward to November of 2019, four years later. I was a docent at Nikkei National Museum in Burnaby volunteering to assist Carolyn Nakagawa, educational coordinator, with the Gallery and video room to teach Nikkei history. There were large groups of grade 8's from Kitsilano Secondary School. They came on three separate days. The last group came November 15th. As I was facilitating the museum gallery, I spotted an Asian parent chaperone looking intently at all the interpretive panels on the wall. After a brief inquiry, he told me his name was Ray Miya. Initially, I couldn't place his name, but for some reason I asked if his name used to be Miyashita. Then, it clicked. I asked Ray if he was related to Sam Miyashita. He replied, "Uncle." We exchanged contacts and got the ball rolling.
Sam's daughter, Morgan Matsu Miya, emailed me to shed some light on her father, and this is what she wrote, "As I understand it, it would have been a day after the fifth anniversary of dad's passing." Morgan went on to say that she was aware of the Nelson Star article. She said that her dad didn't talk about the 'autograph' on the wall. The Miyashita family chose to go east, ending up in Toronto, to avoid being "sent back" to Japan (I believe that all but the two eldest children were born in Canada".
Morgan went on to say that her father, Sam, did many things upon arriving in Toronto. He worked in an industrial laundry, but he ended up employed at the main Loblaw office, where he met his wife. Sam did real estate for a number of years, and lastly, he found a job driving a truck for the post office. Morgan's dad was a jazz musician, playing stand-up bass, and he also played with a Macedonian wedding band for some years with his best friend Lou Martin. Sam was also an artist, and Morgan's memory of dad was that he was always sketching, painting, and in later life took up writing, mainly poetry. He often talked about writing his autobiography. Morgan was very moved that she could reminisce and recollect memories of her father to Greg and I.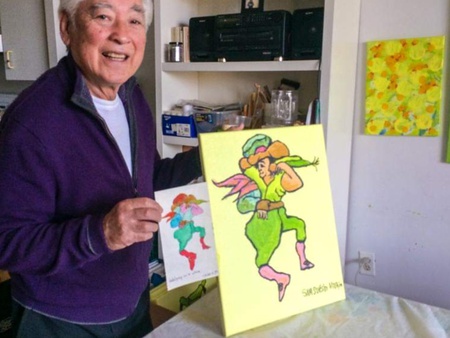 Lewie told his brother Sam that his artwork was unique, original and imaginative. He added that Sam never had formal art lessons. Sam did both small artwork and huge canvas paintings, mostly abstract. Lewie wished one day that his brother's huge art collection can be displayed.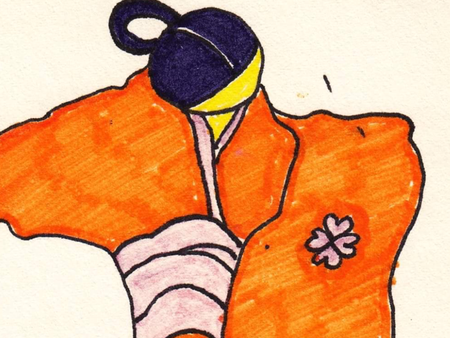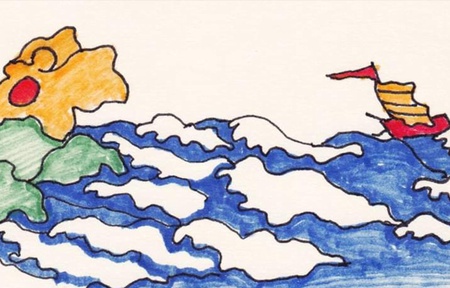 Ray Miya's father, Lewie, offered more information on the family. He wrote that the Miyashita family was from Kagoshima, Kyushu, Japan Lewie was born in Vancouver at 55 Powell Street where his dad purchased a boarding house. After the depression, and losing the boarding house, the family moved to a place on Cordova Street, then to Alexander Street. Later, they moved to 1207 Franklin Street. Finally, Lewie's parents moved to Steveston near the Fraser River because his older sister was working at the Gulf of Georgia cannery. Since she worked there, the family was able to get a house.
Father Sahachi became a fisherman, but when war came he lost his boat and was never compensated. After the war, the family moved to Toronto. Lewie had his name changed officially to Miya when he became a teacher in 1966. He doesn't know if the other brothers did change their names to Miya officially as well.
Sam's brother, Roy, is also a talented musician. Taken from the Japanese Canadian Artists Directory, Roy Miya's bio reads like this: Born in Vancouver in 1925. At the age of 16, he was inspired by Vernon Hakkaku on piano playing 'Amapola' while on a boat on the Skeena River. Roy was so impressed, he began to teach himself piano. His brother Louie (Lewie) introduced him to stride piano, a style of jazz made famous by Fats Waller and Art Tatum, and he was hooked on jazz. Roy mostly kept to himself quietly studying his heroes, Bill Evans and Phil Nimmons, a Toronto jazz legend.
Sam had a younger sister Susan (Sumiko) who married Roy Tsuji. Susan became very involved in the Nikkei community in Toronto. Susan in 1979 worked at a community cable station Multilingual Television, now CFMT. Her idea of promoting Japanese Canadian stories and events was accepted. For four years, she produced and hosted Japanese Panorama, Toronto's first Japanese-English show that discussed such issues as the redress movement, arts, and culture of Japan. Mrs. Tsuji also brought in the internationally popular NHK Red and White New Year's Show, which ran for twenty years.
After leaving CFMT, Susan started her own company, Tsuji Communications Inc., and launched the show 'Hello Japan' in 1984. People such as David Suzuki, former Ontario premier Bill Davis, author Joy Kogawa, and sumo legend Konishiki appeared on her show. Susan was active in the Nikkei community and she also loved sumie, Japanese brush painting. Susan passed away at the age of 69 of kidney cancer in 2014.
There was another brother, Mack (Masaki) who was a well-known gym owner for a number of years with weight lifting equipment that he modified. Mack was also a welder by trade.
The eldest brother Archie (Saichi) was born in Canada, but lived in Japan reared by grandparents. He returned to Canada at age 17 and he taught himself English. Archie later taught ballroom dancing. He died in 2000.
Older sister Jane (Nobuko) took over the family after mother died from TB. She had to quit school in grade 10 to look after her young siblings and she worked as a housekeeper. Jane, herself, developed TB and she was placed in the New Denver Sanatorium. When she recovered, Jane arrived in Toronto to live with the family. Jane married Sam Nagata. Lewie offered to pay her way to visit Japan, but sadly she passed away in 1978. Brother Sam always said that she was a saint.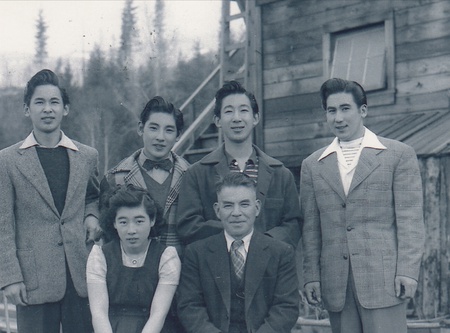 When WWII began, the family was sent to Kaslo, B.C. from Steveston and spent three years there. The family was transferred to Popoff internment camp in Slocan, the family lived in a two-story high bunkhouse with an outhouse, communal kitchen with sink and tap. Lewie and Sam both attended Notre Dame High School with the nuns as teachers. He was in grade 12 and Sam was in grade 9. I guess that's about the time Sam must have written his name on the wooden shiplap of the Slocan Hall.
There is closure now. We now know the Sam Miyashita (Sueshi Miya) story. The 'graffiti' is no longer a mystery. Many thanks to Ray, Lewie, and Morgan for making this simple, soon-to-be-forgotten "Sam Miyashita" autograph come alive with a rich family history.