The Nisei—the group who suffered the most during the World War II incarceration of Japanese Canadians and Americans—is now heading into the twilight of their lives. They survived and succeeded because of their resilience, perseverance, and determination. Now, they can enjoy the fruits of their labor as they proudly look back and reminisce about that period in time when they had to overcome great adversity.
I was a very young Sansei growing up in Greenwood, British Columbia, where I had the best view in town. The Issei, most of whom were lonely bachelors, would come to my father's barber shop to "chew the rag" with dad. When a customer came in, they knew to go next door to the pool hall, where the Nisei would hang out day and night. It was the only action in town, playing pea or poker pool. The winner would receive 10 cents from each player. A dime would also go to the "racker"—that was me. I also had to lay out the peas in front of the numbers. No. 1 was Tak's pea, no. 2 was Hiro's, etc. The conversation could be colorful at times, but most of the time they were so focused on their game that it became quite serious.
The exchange of stories would go on all day, some of them quite comical. This is where I learned the Nisei's idiosyncrasies. Mind you, they were young adults then. The ladies would drop by our house after shopping to catch up on the daily happenings. In the evening, teenagers gathered around the kitchen table to chat or jive dance in the parlor.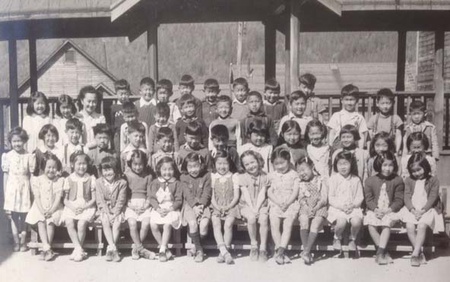 Now the Nisei have grown old, and the Sansei are catching up, as most are in their 70s. They sometimes laugh about themselves as they age. For instance, going to the restaurant, their pills become essential. In their younger days, the amount of beer consumed seemed to be an ego thing; now, it's how many pills they take. They ask themselves whether they brought their baseball cap and cane with them. Most of them groan when getting out of the car. Looking for the nearest elevator or toilet is always on their mind.
Canadian Nisei, you know you're old when…
You still say you're "Oriental" instead of Asian, and you say "Occidental" for Caucasian.
You accidentally say "shoyu" instead of soy sauce.
You know how to play gaji rather than hanafuda.
You use euphemistic terms such as "evacuation" and "relocation," as those were the only terms you knew.
You were taught by Mr. and Mrs. Sato at the Vancouver Japanese Language School on Alexander Street.
You know that Geisha Garden was the only Japanese restaurant in Vancouver's West End during the late 1950s and early '60s.
You know where Con Jones Park was, and you watched the Vancouver Asahi play there.
You tell your grandchildren you went berry picking and/or worked at the fish cannery.
You say you played "Cowboys and Indians" and "Katana Kiri." It's not politically correct now to play those games. It's also considered dangerous.
You joined various Nisei clubs, like bowling, curling, softball, and youth club.
You lived in an internment camp and had to haul a pail of water from Slocan River without spilling it so that you wouldn't have to make an extra trip.
You can make karinto (Japanese crackers) and pakkui (Nikkei version of Chinese sweet and sour dish). You say a-ge sushi and maki sushi rather than inari zushi and futomaki.
You can still cook rice over a wood burning stove or campfire.
You can chop kindling at top speed and you know what sawdust was used for.
You say, "That was my favorite joint." Weed and grass were for mowing.
You still say "Kleenex" instead of tissue paper. Kleenex was probably the only brand or the most popular.
You say that going on a picnic on a weekend was a cool social event in your teen years.
You still love drinking instant coffee and you inadvertently say, "I'll perk some coffee."
You have a library of photo albums and you saved piles of the JCCA (Japanese Canadian Citizens' Association) Bulletin in the basement. You're really old if you have copies of The Continental Times and The New Canadian.
Scissors are your best friend in the kitchen to cut open those vacuum-sealed packages. You also use tiny scissors to clip your nose and ear hair.
You run hot water over the jar lid to expand the metal so that it's easier to open.
Velcro and slip-ons are your footwear fashion.
You sprinkle salt on your watermelon.
You go swimming and have Salonpas marks on your back.
You are asked to babysit the grandchildren and dogs to provide free "home daycare."
You once wore "Days of the Week" panties. Now, you own a 7-day pill container.
The only "high" you get now is high blood pressure.
You want to move closest to where your son or daughter is living.
You still speak English sprinkled with Japanese words, and you begin sentences with "Ah-noh…"
When something is on the tip of your tongue, you go "Ah-noh, ah-noh, ah-noh…" in rapid fire while snapping your fingers at the same time.
You have a long trash pickup gadget to pick up anything you dropped on the floor.
You disguise your cane as a walking stick.
You still think it's mottainai to throw anything away, like plastic containers and rubber bands.
You have coffee once a week with your old cronies.
You don't know that the word benjo (bathroom) is now considered derogatory.
You still say miles, yards, feet, and inches. You're constantly converting kilograms to pounds.
Back in the day, all you had to do to get a driver's license was parallel park correctly a few times.
In hockey, you were either a Toronto Maple Leafs or Montreal Canadiens fan. In baseball, you liked the New York Yankees or the Brooklyn Dodgers.
You know where Rebasheen (River's Inlet) is.
You understand Issei English phrases like omu stobu (warm stove) and baka pay (lottery games with very little chance of winning).
Your grandchildren are now buying you gifts.
You compare yourself to an old car, always complaining about certain parts of the body needing repairs or replacement. Your maintenance is high maintenance!
Here are a few contributions from my childhood friend from Greenwood, David Hamaguchi:
You put knitted doilies on the arm rest of your sofa.
You get your hair cut really short to save money.
You roll your pant legs up instead of wearing shorts.
You have to eat Ochazuke and tsukemono, and you cannot go without rice for more than two days.
Your nap schedule is falling asleep in front of the TV.
You stick out your dentures to entertain the grandchildren.
To all Nisei: please enjoy and cherish every moment in time. You deserve it. Every day you get out of bed is a bonus. Visit your old friends as much as you can.