How would you prepare for a showing of your own artwork—one that spans a career of more than six decades?
"Do come to my place," offers Fumiko Kimura over e-mail, cheerfully. "Just to let you know, my place now looks like I could be evicted." The Nisei artist, now 85 years old, is currently storing most of her paintings at her home in order to select and mount them for a retrospective show at Tacoma Community College in November.
"Fumiko has been participating in exhibitions at the [TCC] Gallery for over 10 years," notes Jennifer Olson-Rudenko, director of the Gallery. "She has made a significant contribution to the artists in our area through her teaching and exhibitions. Some of the artists who studied under her have also exhibited in exhibitions at TCC."
As I enter the house, it's oddly familiar and comfortable, like my Japanese auntie's houses. There is a glass case on the wall that holds a few knickknacks. There are family pictures from sepia to full-color on the walls. The kitchen and stove are spic-and-span clean. However, there's something markedly different about this house: there's art everywhere, in various stages of being mounted, framed, hung. Stacks of it rest against much of the existing furniture. The paintings line the hallways and garage. It's an inspiring collection of a lifetime's work.
"I would like to make tea," she says, after I repeatedly but respectfully decline any offer of lunch. And so we begin to chat in the entryway to her kitchen, waiting for a pot of water to heat. There I find out a little more about her background. She was born during the Depression in Rexburg, Idaho. "I've never been back there," she says.
At age 10, her parents wanted her and her siblings to meet their grandparents in Japan. While in Japan, World War II broke out, and her mother contracted tuberculosis. The family was not allowed to return to the United States for some years. She went to Japanese school, where she learned language and culture and calligraphy.
At age 17, her mother sent her children back to the States, saying, "You should go and make your own lives there." Her mother died, still in Japan, three years later.
"Whenever I paint," Fumiko says, "I feel my mother hovering nearby, saying, 'Just do it.'"
Fumiko credits her mother's encouragement as important for her artistic career. "Ever since I was a little girl, back in third grade, my mother knew that I wanted to paint," she says. A third-grade teacher saw Fumiko's enthusiasm for art and asked her to stay after school, offering extra practice in painting. That encouragement from her mother and her teacher sustained Fumiko's love of painting, although she did not take it up again right away in college.
She attended the University of Puget Sound in Tacoma, where she graduated in 1954 with a degree in chemistry. "When I came back from Japan, my English wasn't so good," she says. "I knew my letters in English still, but my grammar… Well, I could still recite the names of the elements. And then I learned how to grow crystals…and I thought, ah…so beautiful."
Fumiko's background in chemistry served her artistic career well; she never lost the pleasure of experimentation and exploration. Wanting to experience "warmer connections to [her] paintings," she began to make her own recycled paper. She has used gloss acrylic paint, layer by layer dried onto glass, in order to create another form of paper. She has created mixed media collages out of used tea bags. She has cut off the ends of an old dustpan brush, in order to use as a paint brush. Rather than trying to drive the painting process, Fumiko prefers to be driven by the process: "What kind of subject can I paint with an old brush that's been cut off?" She's even made her own non-traditional sumi ink out of chimney soot, a process that she describes as "labor-intensive, especially to maintain a homogeneous state," but interesting.
Almost a half-hour later, I realize just how lucky I am: Fumiko's begun to take me on a private tour through the pieces that she's considering for the show, roughly in chronological order. We begin in the living room with a watercolor painting of a familiar bridge—the Murray Morgan in Tacoma. "Yes," Fumiko says, "I thought the bridge looked so airy, about to float off, so I wanted to add a lot of strong colors and lines, to weigh it down."
She did these earlier paintings as an undergraduate student at the University of Puget Sound, where one of her professors encouraged her to explore non-objective paintings in acrylic. Later she decided to return to UPS, this time for her Masters in Art Education in 1977. "My husband really didn't want me to get my graduate degree," she says, and pauses. "But I had to. For myself."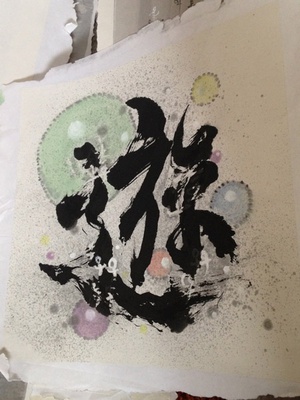 After the time that she spent painting in watercolor, she began, with the encouragement of one of her professors, to experiment. She moved from watercolor to calligraphy and to sumi painting. Her work became more abstract and less representational, at a certain point moving into bold triangles of color swatches. Then, in 1985, she returned to Japan. She studied at the Kyoto Nanga School and the Senju-in Zen Temple. Two watercolor paintings from this time illustrate the serenity of studying in this environment, but also evoke "a deep longing," Fumiko says, "that I felt for my mother. I hadn't been back in over 17 years." Energized by this trip, she returned to Tacoma and co-founded the Puget Sound Sumi Artists Association, an organization with three branches (sumi, ikebana, and calligraphy) which continues to meet regularly, offering teaching, exhibition, and scholarship opportunities.
Fumiko's love of the natural environment runs deep with a spiritual interconnection, which is apparent in many of her landscapes. After a memorable trip to Multnomah Falls, she painted a sumi/watercolor work that plays with the kanji for "waterfall" (taki) by combining the symbols for "water" and "dragon"—the painting contains elements of a representational waterfall with the cascading motion of the waterfall, the waterfall kanji, and the fierce energy of a dragon. "I noticed the tail," she says, smiling.
We move upstairs to a room over the garage, where she explains a little bit of the Buddhist ensō. "See?" She riffles through one of the stacks of paintings on the ground. "The circle, right there." Her fingers ripple in a decisive clockwise gesture. "I started to work with that motion. Very instinctive, very intuitive. Just like that. Right there."
Circles appear repeatedly in Fumiko's work. A common motif is a series of pastel circles, like bubbles, which play around the subjects of the paintings. Peonies appear out of several brushstroke half-circles. She cites one of her influences as Sengai, the 18th/19th century Gibon monk whose sumi paintings were known for their light-heartedness. Other paintings look like forests of vaguely calligraphic figures, sometimes hiding forest animals, other times holding the vibrant energy of dancers. Costumes that she designed for the Tacoma City Ballet are hanging in another doorway—more bold streaks of color painted onto neon unitards, painted "while the dancers were wearing them," she says.
After more than two hours, we are standing in front of a sumi painting, a fairly recent one from several years ago. "What do you see?" she asks me, her gentle teacher persona directing its attention towards me and the painting. "You can help me give this meaning."
"I see a woman's head, turned away," I say. "There's a utensil of some kind, a spoon maybe, or a ladle. And a wave, maybe, or a horizon." I can't say it yet, but there's an energy that contracts briefly inward, with the woman's head, and the expansive wash of the wave/horizon that carries most of the painting.
"I call this one Caregiver," she says, "maybe because I am helping to take care of my younger brother, along with my younger sister." As she says the title, the elements of the painting rearrange themselves for me, and I can sense what she is seeing.
"What was freeing for me as an artist," she says, "was learning I could create meaning [after creating]. I didn't have to make meaning before I created, I didn't have to think so hard about it."
Now she does not title her paintings until after the work is finished.
After more than sixty years of painting, what does she hope the show teaches other artists? "To explore," she says firmly. "There are other artists which keep to very traditional ways of sumi painting. That's fine. But you have to explore, to be original."
And does she still have ideas for more paintings? "Yes, the process," she says later, "the process has always been the most satisfying, the most joyful."
Artists Fumiko Kimura and Rob Fornell are holding an exhibition at The Gallery at Tacoma Community College. The show runs from November 3 to December 13, 2014.
*This article was originally published on the International Examiner, on October 28, 2014.