Summer All Things Japanese Sale
JCCCW
1414 S. Weller St.
Seattle, Washington, 98144
United States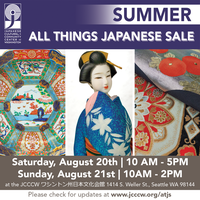 The SUMMER All Things Japanese Sale will be held at the JCCCW on August 20th and August 21st, from 10 a.m. - 5 p.m. on Saturday and 10 a.m. - 2 p.m. on Sunday. Thousands of items available, starting from as low as 25 cents - dishware and tableware, dolls and toys, fabrics and textiles and so much more — there's something for everyone at this Japanese rummage sale!
Please note, Hosekibako Japanese Resale Shop will be closed on Friday August 19th for preparations, but will be open during the Sale!
Learn more:
https://www.jcccw.org/atjs
--------------------------
How to Participate:
𝗗𝗼𝗻𝗮𝘁𝗲 𝘆𝗼𝘂𝗿 𝗝𝗮𝗽𝗮𝗻𝗲𝘀𝗲 𝗜𝘁𝗲𝗺𝘀!
We will accept donations for the Sale of Japanese art, household and other collectible items. The drop-off site is located in the alley off of 16th Ave S. between Weller St. and King St. Items can be dropped off Thursday - Sunday between 10 a.m. and 3 p.m. or by appointment on other days.
In particular, we would appreciate donations of Kokeshi dolls, dishware, kitchenware, kids' toys and games, furoshiki and tenugui.
𝗩𝗼𝗹𝘂𝗻𝘁𝗲𝗲𝗿 𝗢𝗽𝗽𝗼𝗿𝘁𝘂𝗻𝗶𝘁𝗶𝗲𝘀!
We are looking for volunteers to help with preparations, as well as on the days of the Sale.
Please go here (https://bit.ly/3vzbGzj) to register to volunteer.

jcccwa . 更新日 2023年2月8日
---