Nima Voices: Episode 9—Greg Robinson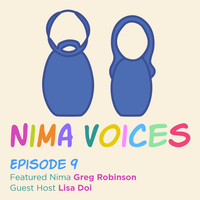 Nima Voices is an interview series where we uplift our Nima through brief, but enlightening, interviews. In the ninth episode, Greg Robinson, a noted author and scholar of Japanese and Canadian American history, will be interviewed by guest host Lisa Doi, a curatorial assistant at the Japanese American National Museum and a PhD Student in American Studies at Indiana University.
Greg has been contributing articles to Discover Nikkei since 2009, shedding light on extraordinary, yet little-known Nikkei, many of which were published in an award-winning anthology, The Unsung Great: Portraits of Extraordinary Japanese Americans. Join us as they chat about some of his favorite stories from the book, his connections to Discover Nikkei, and more!
Read Greg's articles on Discover Nikkei before tuning in for this live interview and Q&A on Tuesday, July 12, 2022 at 5 p.m. (PDT) on the Discover Nikkei YouTube channel or on Facebook. Log into your YouTube or Facebook account to post questions for the Q&A!
We encourage you to subscribe to our channel/page so you will be notified when the video is streaming live.
Greg Robinson, a native New Yorker, is Professor of History at l'Université du Québec À Montréal, a French-language institution in Montreal, Canada. He is the author of the books By Order of the President: FDR and the Internment of Japanese Americans (Harvard University Press, 2001), A Tragedy of Democracy; Japanese Confinement in North America (Columbia University Press, 2009), After Camp: Portraits in Postwar Japanese Life and Politics (University of California Press, 2012), Pacific Citizens: Larry and Guyo Tajiri and Japanese American Journalism in the World War II Era (University of Illinois Press, 2012), and The Great Unknown: Japanese American Sketches (University Press of Colorado, 2016), as well as coeditor of the anthology Miné Okubo: Following Her Own Road (University of Washington Press, 2008). Robinson is also coeditor of the volume John Okada - The Life & Rediscovered Work of the Author of No-No Boy (University of Washington Press, 2018).
His historical column "The Great Unknown and the Unknown Great," is a well-known feature of the Nichi Bei Weekly newspaper. Robinson's latest book is an anthology of his Nichi Bei columns and stories published on Discover Nikkei, The Unsung Great: Portraits of Extraordinary Japanese Americans (University of Washington Press, 2020). It was recognized with an Association for Asian American Studies Book Award for Outstanding Achievement in History Honorable Mention in 2022.
Lisa Doi (she/her) is a curatorial assistant at JANM and a PhD Student in American Studies at Indiana University. Her current work looks at Japanese American remembrances of the World War II incarceration in the context of long histories of carcerality within the United States. Outside of her academic work, Lisa is an organizer with Tsuru for Solidarity and the president of the Japanese American Citizens League Chicago. These engagements help her blur the boundaries of her academic and community work, so that they emerge as deeply interrelated efforts of remembrance and repair.

editor . 更新日 2022年8月8日
---