"What is Noh?" by Professor Paul Atkins
Online
United States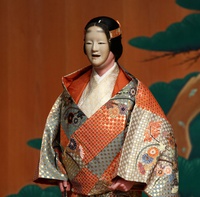 Washin Kai - Friends of Classical Japanese at UW Presents:
"What is Noh?" A lecture by Professor Paul Atkins
September 22, 7:00-8:30pm(PDT)
Free Online Event (Registration Required)
Register Here: https://events.uw.edu/WhatIsNoh
Part retual, part enternainment, Noh drama has been considered high art over the past six hundred years. This talk in English by Professor Paul Atkins will be an introduction to this fascinating dramatic form and it is meant to help enhance your appreciation of the Oct.13th Noh Event with renowned Noh performer, Master Takeda Munenori. It is open to the public and designed for those without previous familiarity with Noh or the Japanese language.
Paul Atkins is a professor of Japanese in the Department of Asian Languages and Literature at the University of Washington. He theaches and writes about the classical languages, literature, and culture of Japan with a particular emphasis on the medieval era (ca.1150-1600).
Washin Kai ( www.washinkai.info )was formed in 2018 to preserve and strengthen classical Japanese studies at UW. It is a groupe of volunteers from the Puget Sound community with strong ties to the university and to Japan.

niki1018 . 更新日 2021年8月31日
---