Nima Voices: Episode 1—Chuck Tasaka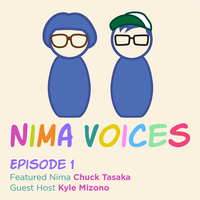 FREE
"Nima" are members of the Discover Nikkei online community. Hailing from all around the world, they each bring unique experiences and perspectives to the site's rich archive of stories.
We are thrilled to be launching "Nima Voices," a series where we uplift our Nima through brief, but enlightening, interviews! In this inaugural episode, hear from Discover Nikkei contributor Chuck Tasaka as he is interviewed by our guest host, actor and comedian Kyle Mizono.
Chuck Tasaka is a Japanese Canadian who grew up in Greenwood, British Columbia. Since October 2015, he has shared many vivid stories about his and his family's experiences, as well as the history of Japanese in Canada before, during, and after World War II. Read Chuck's work here before tuning in for this live interview and Q&A on the Discover Nikkei YouTube channel.
Kyle Mizono is a comedian based in Los Angeles who recently made a Comedy Central digital series called "Girl Kyle." She's also been featured on NPR's This American Life, Viceland, FreeForm, and Adult Swim.
Click the link below to watch the program live on Tuesday, October 27 at 5 p.m. (PDT)
WATCH HERE

We encourage you to subscribe to the Discover Nikkei YouTube channel so you will be notified when the video is streaming live.

editor . 更新日 2020年10月27日
---