Obon Festival - Kauai Soto Zen Temple Zenshuji
Kauai Soto Zen Temple Zenshuji
1-3500 Kaumualii Hwy
Hanapepe, Hawaii, 96716
United States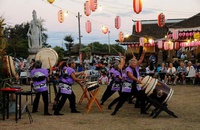 Come and visit Kauai Soto Zen Temple Zenshuji for its annual obon festival! On the island of Kaua'i we want to share our diverse multi-cultural heritage. The Bon (or Obon) festival celebrates our unique Japanese-American folk culture that has evolved in Hawai'i for over five generations. The Bon season is an important expression of religious traditions and Japanese folk culture in Hawai'i. Typically, a Bon festival includes dancing around a yagura (raised platform) to distinctive Bon odori (dancing) music with live performances in singing and taiko (drumming). Complementing the folk dance are food bazaar, game booths, and other displays of Japanese culture and arts.
The Zenshuji temple on Kaua'i had its beginnings when McBryde Sugar Company was expanding. Many villages, called camps , were established to house the imported plantation laborers. In the fall of 1899, a group of recent Japanese immigrants were assigned to McBryde and settled at Wahiawa, Camp 3. The lack of a social core made life difficult for the camp residents until the Reverend Ryoun Kan arrived in 1903, initiating a change in people's outlook of settling in a new place and forming a new community. Reverend Kan started preaching in a home, then used the community hall, and in 1904 built a combination church-language school. Finally in 1918, a main temple was built along with the minister's residence.
Friday, 8/3 - 7:30-10:30 p.m.
Saturday, 8/4 - 7:30-10:30 p.m.
Learn more about Kauai Soto Zen Temple Zenshuji
Phone: (808) 245-2481

daniyang8 . 更新日 2018年7月17日
---