"Moving Day" program presented by LTHS
Japanese American National Museum
100 North Central Avenue
Los Angeles, California, 90012
United States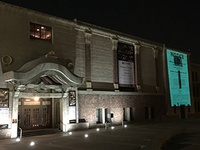 FREE
Each night through August 11, from sunset to midnight, Moving Day presents outdoor projections of Civilian Exclusion Order posters, which were issued during World War II to inform persons of Japanese ancestry of their impending forced removal and incarceration. The date of each projection will coincide with the original issue date of the order being projected. Projections take place on the façade of the museum's Historic Building, the site of Los Angeles' first Buddhist temple and a pickup point for Japanese Americans bound for concentration camps during World War II.
Before tonight's projections begin, join us and our partner organization Little Tokyo Historical Society for a special public program with three former inmates of the Japanese American World War II camps—Bill Shishima (Heart Mountain), Yukio Kawaratani (Tule Lake), and George Nakano (Jerome, Tule Lake)—who will talk about their experiences in Little Tokyo before the war and how the camp experience changed their lives. Moderated by Instructions to All Personscurator Clement Hanami, JANM's Vice President of Operations/Art Director.
For a complete schedule of Moving Day programs, visit janm.org/instructions-to-all/movingday.
In conjunction with the exhibition Instructions to All Persons: Reflections on Executive Order 9066

JANM . 更新日 2017年6月15日
---