Makoto Taiko 15th Anniversary Concert
Occidental College's Thorne Hall
1600 Campus Road
Los Angeles, California, 90013
United States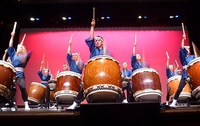 Makoto Taiko will present their 15th Anniversary Concert on Saturday, June 28, 2014 at Occidental College's Thorne Hall (1600 Campus Road, Los Angeles, CA 90013) from 6 to 8 pm. Shamisen artist, Mike Penny, will join us as a special guest. Tickets are $15 and can be obtained at http://makototaiko.brownpapertickets.com.
Makoto Taiko strives to elevate the spirit in the performers and the audience members through playing a traditional Japanese drum known as "Taiko". The group's drumming serves as a bridge across different cultures and encourages global understanding that transcends language and words. Makoto Taiko performs under the instruction of Koji Nakamura, former leader for 20 years of the Shumei Taiko Ensemble in Japan, and 2007 Grammy Award-winner as an artist on Paul Winter's CD album, "Crestone".
Mike Penny is known for his unique style of shamisen playing which fuses east and west musical contexts. Mike studied under sensei Toyoaki Fukushi in Japan.
Makoto Taiko's previous two annual concerts were sold out and therefore purchasing tickets in advance is strongly recommended.
The concert is our annual fundraising event. We welcome donations so we can continue to inspire audiences, hold classes, and repair drums.
For more information, visit www.makototaiko.org or email info@makototaiko.org.


kkoyano . 更新日 2014年5月25日
---