Space, Choreographed: Noguchi and Ruth Page
The Noguchi Museum
9-01 33rd Road
(at Vernon Boulevard)
Long Island City, New York, 11106
United States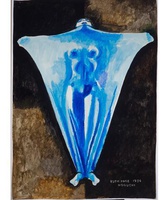 From noguchi.org :
Space, Choreographed: Noguchi and Ruth Page was developed in a collaboration between The Noguchi Museum and The Ruth Page Foundation, building on a group of drawings Noguchi made of the great American avant-garde dancer and choreographer Ruth Page posing in a sack dress he designed in 1933 to transform her into a dynamic embodiment of his sculpture Miss Expanding Universe (1932).
That piece had emerged from Noguchi's extensive efforts to find a distinctive way to abstract the human figure- efforts greatly enhanced by his contact with modern dance, and Page's form in particular- his study of ink wash painting with the Chinese painter Qi Baishi, and his best friend, the eccentric futurist genius Buckminster Fuller, a sort of Three Musketeers of American ability and aspiration, had been captivated by a series of lectures popularizing Edwin Hubble's recent discovery that the universe was neither static nor tidily Copernican. It is hard to conceive a better visual metaphor for Hubble's new picture of the universe, a pulsating amoeba of out-rushing matter, than Page in Noguchi's sack dress.
The exhibition explores Noguchi and Page's personal relationship and their two professional collaborations: the constellation of objects and performances that includes Miss Expanding Universe , the dress and the dances it inspired and Page's post- World War II dance The Bells , based on Edgar Allen Poe's poem of the same name, for which Noguchi designed costumes and a set. The exhibition has been scheduled to coincide with Isamu Noguchi and Qi Baishi: Beijing 1930 , also on view at the Museum this fall.
Image: Ruth Page in Isamu Noguchi's Sack Dress 1934 , Attributed to Andre Delfau, c. 1970's
Hours
Wednesday, Thursday, Friday: 10:00am-5:00pm
Saturday & Sunday: 11:00am-6:00pm
Monday & Tuesday: CLOSED
The Museum is closed on Thanksgiving Day, Christmas Day and New Year's Day.
Admission

General admission: $10
Senior Citizens: $5
Students with a valid ID: $5
NYC public high school students with a valid ID: FREE
Children under 12: FREE
Members: FREE (Learn more about Membership )

On the first Friday of every month year-round, Museum admission is pay-what-you-wish.

Also on view: Isamu Noguchi and Qi Baishi: Beijing 1930

APA_Institute . 更新日 2013年12月2日
---