Sunday Night Sushi
Japanese Cultural and Community Center of Northern California
1840 Sutter St
San Francisco, California, 94115
United States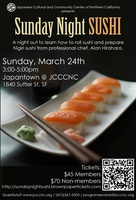 Sunday Night Sushi
On Sunday,March 24, 2013, the Japanese Cultural and Community Center of Northern California will be offering individuals the chance to master the art of sushi-making at their Sunday Night Sushi workshop. Taught by Chef Alan Hirahara, this hands-on workshop will teach students basic sushi-making techniques using the freshest ingredients, giving them the proper foundation to better explore the art at home with family and friends.
What's included:
How to prepare sushi rice
How to properly slice fresh fish for sushi
Hands-on sushi-making and tasting of homemade sushi, which includes: Hosomaki roll (rice on inside); Uramaki roll (rice on outside); and Nigiri sushi.
Participants will also have a chance to tap into their creative with a "create your own roll" at the end.
All recipes will be provided at the end of class
The Chef:
Chef Alan Hirahara is a graduate of the California Culinary Academy. Chef Alan spent 12 years at Shogun sushi bar in Mammoth Lakes, California, working up to head sushi chef. Since 2001 he has been running his own sushi catering business and is also a Sushi 101 instructor at the renowned Draeger's Cooking School.
Get $15 off the General admission by registering before March 10th! Just enter the promo code: SushiFunday
For Tickets:
http://sundaynightsushi.brownpapertickets.com/

coffeehouse222 . 更新日 2013年2月21日
---