Target FREE Family Saturday: Art from the Heart
Japanese American National Museum
100 N Central Ave
Los Angeles, California, 90012
United States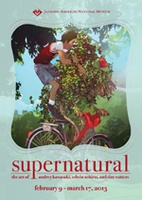 FREE ALL DAY!
Celebrate Valentine's Day & the opening of Supernatural, our new Salon Pop exhibition! Show your love by making art for yourself and others!
SCHEDULE:

11AM - 2PM: Join Kidding Around the Kitchen and make heart friendly fruit kebabs with a chocolate yogurt dipping sauce
12 - 2PM: Timothy Teruo Watters of Supernatural will show you how to duplicate and remix art in this fun design workshop!
2PM - 4PM: Have a custom chocolate heart portrait lollipop made just for you by the Entertainment Contractors!
2PM - 4PM: Artist Edwin Ushiro will lead a fun drawing workshop! Edwin's art can be found in our new exhibition Supernatural

ALL DAY CRAFTS AND ACTIVITIES:
• Draw a silly or spooky creature inspired by our new exhibition Supernatural with a variety of cool art materials!
• Construct a handmade Valentine for someone special
• Ruthie's Origami Corner: Learn how to fold an origami heart
For more information, visit janm.org/target.
Generously sponsored by Target, these special Saturdays are filled with fun activities giving families unique ways to learn, play, and grow together.

JANM . 更新日 2013年1月28日
---