TANOSHII Fun Camp 2012
Gardena Valley Japanese Cultural Institute (JCI)
1964 W. 162nd Street
Gardena, California, 90247
United States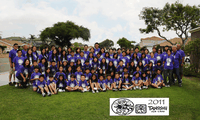 2012 will be the fifth year for the TANOSHII Fun Camp sponsored by the South Bay JACL and the Gardena Valley Japanese Cultural Institute (GVJCI). The mission of the TANOSHII Fun Camp is to "Promote the Legacy of the Japanese American Culture and Heritage to our Youth". The camp will take place from July 16 to July 20, 2012 at the:
Gardena Valley Japanese Cultural Institute (JCI)
1964 W. 162nd Street
Gardena, CA 90247
The TANOSHII Fun Camp will be held from 9:00 AM to 3:00 PM. Enrollment is open to all students 7 to 10 years old at the start of camp. Enrollment will be limited to 50 campers.
Registration will be held at the JCI Hall on Saturday, April 28, 2012 at 1:30pm until the 50 camper enrollment is met.
Camp Registration Forms will be available on our website from February 29, 2012 at www.tanoshiifuncamp.org

The mission of the camp is to promote the legacy of Japanese American culture and heritage to our youth by:

Enhancing the legacy of the Japanese American values introduced by the Issei
Exploring the Japanese American culture, traditions and their adaptations
Sharing the Japanese American experiences and history
TANOSHII Fun Camp teaches young people about the Japanese American culture and heritage through fun activities, community speaker presentations and demonstrations and games. Past activities included taiko, kendo (martial arts) origami, obon dancing, Japanese language, Japanese cooking, etc. Campers will get a chance to learn and connect with their heritage along with high school juniors, seniors and college students serving as camp counselors under adult supervision.
For more information, please visit http://www.tanoshiifuncamp.org/.

llan . 更新日 2012年6月22日
---