WALK THE FARM to Help Rebuild Farms in Japan
Tanaka Farms
5380 3/4 University Dr
Irvine, California, 92612
United States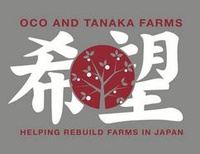 Take a leisurely 1.5 mile walk around the farm making several stops along the route to sample some of our fresh fruits and vegetables. Allow one hour to "Walk the Farm."
100% of admission sales will go to aid a select group of farmers in Japan.
Register to become a Walker and with a $20 donation, you will receive:
a scenic view as you "Walk the Farm"
bottled water
sample fruits and vegetables from the farm
shaved ice
other snacks
the knowledge that you are helping a community to rebuild their farms.
T-Shirts available for $10 each and can be ordered at the time you register. Walkers must pre-register due to limited space.
COST:
Walker.......... $20
T-Shirt..........$10
Deadline to Register: June 1, 2012
ATTENTION DOG OWNERS: Bring your dog out to Walk the Farm!
Check in between 1:00pm and 2:00pm, must be on leash at all times.
COST:
Dog..............$5
Bandana........$7
Space is limited, reservation required.
For more information and registration, visit walkthefarm.com

vkm . 更新日 2012年5月7日
---