Michael Pili Pang Hula Workshops
38 Lake Street
Oak Park, Illinois
United States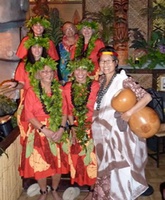 Halau i Ka Pono is in its fourth year of Hawaiian Dance Classes at 38 Lake Street(NEW location) in Oak Park, IL. The Hula School of Chicago is proud to present master hula teacher, Kumu Hula Michael Pili Pang, MFA, from Honolulu, Hawaii who will teach and perform March 29 - April 1st. A protege of Maiki Aiu Lake and Mae Kamamalu Klein, Kumu Hula Michael Pili Pang has been teaching hula since 1986. He has two hula schools in Hawaii and has also served for the past six years as the Mayor's Executive Director to the City and County of Honolulu's Office for Culture and the Arts. Pang is also June Kaililani Tanoue's hula master.
Michael Pili Pang Hula Workshops
'Uli'Uli (Feathered Gourd) Making Workshop
Thursday March, 29th
7 - 9:30 pm OR
Friday, March 30th
1 -3:30 pm
Feathered gourds are instruments used in hula. It consists of a feathered top and gourd filled with seeds that rattle.
Cost including all supplies is $75
Lecture/demonstration, Q&A Discussion
"History and Contextual Structure of Hula"
Friday, March 30th
7 - 8:30 pm
The only master hula teacher with an MFA from the University of Hawaii, Michael Pili Pang is adept at talking about the Hawaiian dance of hula from a western vantage point. And there are unique aspects to the Hawaiian Hula.
Cost $15
Modern Hula Workshop
Saturday, March 31st
9:30 am - 12 noon
Cost $75
Lunch included
Classical Hula Workshop
Saturday, March 31st
1 - 3 pm
Cost $55
Lunch included
Hula Performance
"The Art of Hula"
Saturday, March 31st
7:30 pm
This performance showcases creating in the present by understanding the past.
Cost $15
Completion Workshop
Sunday, April 1st
9:30 am - 12 noon
Complete the feathered gourds, review hulas, Q&A, Discussion.
Cost $35
Lunch included
Hula is the beautiful cultural expression of the Hawaiian people that honors life in dance. It tells a story through dance and is helpful for developing core strength and flexibility through its gentle yet powerful movements. It's also a way to gain new self-perspective through a joyful coordination of mind and body.
Instructor: June Kaililani Tanoue, Kumu Hula (Master Teacher of the Hula).
Call 708-297-6321 for more information.
Click here to visit their website!

intrepidmouse . 更新日 2012年3月25日
---