San Jose Taiko - Rhythm Journey Concert in Sunnyvale, CA
Sunnyvale Theatre
550 E. Remington Drive
Sunnyvale, California, 94087
United States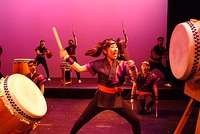 With its iconic "fat drums," San Jose Taiko is easily one of the South Bay's most recognizable and popular cultural arts organizations, wowing audiences since 1973. Each time they play here, this internationally recognized group fills the theater with sound, color and physicality in a spectacular show of drumming and dance. Renowned for a uniquely sansei , or third generation Japanese-American, style, San Jose Taiko blends ancient Japanese rhythms and movement with African, Balinese, Brazilian, Latin and jazz percussion and contemporary dance. Troupe members not only perform, but also compose, choreograph, costume, even handcraft the drums in this art form which celebrates harmony.
For more information, click here .
For more information about San Jose Taiko, please visit the artists' websites, www.taiko.org .
Click here to visit the Sunnyvale Recreation online registration site, where you can purchase tickets to this and other shows.

San_Jose_Taiko . 更新日 2011年11月14日
---