Day of Remembrance Chicago 2012
Chicago History Museum
1601 NORTH CLARK STREET
Chicago, Illinois
United States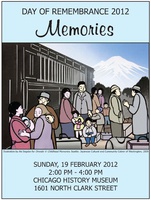 Every year the Japanese American community in the Chicago area comes together to commemorate the 1942 signing of Executive Order 9066, which led to the forced incarceration of some 120,000 Americans of Japanese ancestry during World War II.
Day of Remembrance 2012 will feature readings from "Omoide: Childhood Memories," a collection of reflections on being Japanese American during World War II. Story artist Anne Shimojima will present her original performance piece "Hidden Memory: An American Story," one family's journey from Japan through the wartime incarceration camps.
This event is sponsored by the Chicago Japanese American Council, the Chicago Japanese American Historical Society, the Japanese American Citizens League-Chicago Chapter, and the Japanese American Service Committee.
The program is free and open to the public.

 DAY OF REMEMBRANCE 2012
SUNDAY, 19 FEBRUARY
2:oo PM - 4:oo PM
CHICAGO HISTORY MUSEUM
1601 NORTH CLARK STREET


intrepidmouse . 更新日 2023年1月19日
---