Cherry Blossom Festival SoCal "Blossoms in the Fall"
Little Tokyo
Parking lot at Temple & Alameda next to Metro Station
Los Angeles, California, 91105
United States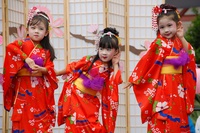 When: 9/24/11 (10:30 am- 6:30 pm) and 9/25/11 (10:30 am- 5:00 pm)
Where: Little Tokyo district of Los Angeles – Entrance Temple & Alameda
Next to the Little Tokyo Metro Train Stop
Admission: $1.00 – Children under 3 are FREE
The Cherry Blossom Festival SoCal celebrates its 10th year in 2011
This Festival is produced by a grassroots 100% volunteer team including all the performers, with a lot of heart & soul. Festival promotes and educates the culture of Japanese Americans and the Japanese culture. This year the theme of the Festival recognizes the history and shares the stories of Japanese Americans during the World War II era in America and Japan Rebuild/10,000 Origami Cranes.
Blossom Stage – Opening Ceremonies- Sat at 10:30 am – Music, Dance, Taiko, Performance Entertainment, SPECIAL weekend guest - "Hello Kitty", Kimono Fashion Show featuring LA Councilwoman Jan Perry (Sat at 3pm), Most Photogenic Dog Contest (Sun. at 3:15 pm); AWARDS Sat starting at 12:30 pm - Senator Daniel Inouye Cherry Blossom Leadership Awards, George Kiriyama Educational Excellence Award, Community Treasures & Teachers Making a Difference Awards. Kids Zone includes Crafts, BookPALS Sag Foundation Storytellers & performances of Lazy Yoshi & the Bee Pollen on Sat; Hawaiian Stage with emcee Kamaka Brown; Cultural Pavilion with demonstrations, historic exhibits & origami; Martial Arts Arena nonstop performances; Odori Dancing at 2pm Sat & Sun at the Hawaiian Stage where attendees can join in the two big dancing circles; Craft Vendors & Food Court & Food Trucks; J-Pop Stage features Pop, Rock, Hip-Hop, the Cosplay Contest (Sun) and Anime Fashion Show (Sat) with emcee D.J. Wong spinning her turntable and Beer & Sake Garden.
AWARD HONOREES: SENATOR DANIEL INOUYE CHERRY BLOSSOM LEADERSHIP AWARD: JA Living Legacy; Grateful Crane Ensemble; LA Councilwoman Jan Perry; Manzanar Committee & Nikkei for Civil Rights & Redress. GEORGE KIRIYAMA EDUCATIONAL EXCELLENCE AWARD: Glenn Omatsu. COMMUNITY TREASURE AWARD: The One-Man-Band Arthur Nakane & Kimekomi Dolls. BLOSSOM AWARD: Ken Kaneska TEACHERS MAKING A DIFFERENCE AWARDS: Craig Ihara, Ph.D.,Cal State Fullerton; Arlene Nakamura, LAUSD; Cynthia Loo, JD, People College of Law; Susie Ling, Pasadena City College; Janet Bennett, Brightwood Elementary; Diane Bonfils, Mayfield Senior High School; Freda Berg Yoshioka, Campbell Hall High & Dianne Fukuwa, Fujima Seiyumi, Nihon Buyo-Japanese Classical Dance.
The Cherry Blossom Festival SoCal is a fiscally sponsored project of the Pasadena Arts Council, a 501 (c)(3) charitable organization- EIN#95-2540759.



CherryBlossomFestival . 更新日 2011年9月19日
---