Japanese Pop Culture Festival in London
The Old Truman Brewery
London , England
United Kingdom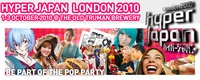 HYPER JAPAN LONDON 2010 is a brand new event, presented by the EAT-JAPAN brand, showcasing the very best of contemporary Japanese culture and cuisine. Held over three days in the iconic Old Truman Brewery, London, HYPER JAPAN will feature anime, manga, sushi, sake, street fashion, snacks, technology, exclusive branded goods and more.
The event has been conceived to make modern Japan accessible to a young and trend-conscious audience in London. Highlights include:
• UK DEBUT FOR MILKY HOLMES
Milky Holmes, a TV anime & video game produced by Bushiroad, will make its UK debut! Already a sensation in Japan, the Milky Holmes series confirmed its status with an appearance at the recent Anime Song Live, a massive celebration of Japan's most popular anime songs. Bushiroad will be exhibiting over all three days, and the four Milky Holmes voice actresses will be appearing live on stage on Saturday 2nd October. Watch a taster here:
www.hyperjapan.co.uk/watch/milky-holmes
• TAKE THE SUSHI CHALLENGE WITH KIKKOMAN
Held on Friday 1st and Saturday 2nd October on the main stage, this event is a chance to learn tips from top sushi chef, Tomokazu Matsuya from SO Restaurant, then watch sushi enthusiasts battle it out on stage to be crowned the ultimate sushi challenger – and win some fab Kikkoman goods!
For the non-challengers, Chef Matsuya's tips will give some essential insight on starting to make delicious sushi – safely – at home:
www.hyperjapan.co.uk/watch/kikkoman-sushi-challenge
• VOLUNTEER MODELS TAKE THE STAGE WITH STREET FASHION ROYALITY
Misako Aoki, former "Kawaii (Cute) Ambassador" for Japan's Ministry of Foreign Affairs, and top Lolita-style fashion model, will be at HYPER JAPAN on Saturday 2nd and Sunday 3rd October. She'll be on stage as part of HYPER STYLE A GO GO, a fashion & make-over show presented by KERA, Japan's leading street fashion magazine. The show will feature six top Japanese fashion brands, which will also be selling items exclusively at the event. Also taking part in HYPER STYLE A GO GO will be volunteer models – ordinary girls chosen to shine onstage! Winners of the model
contest will be announced in early September.
www.hyperjapan.co.uk/watch/hyper-style-a-go-go
• BURSTING WITH POP CULTURE: ANIME, MANGA, MOVIES AND MORE!
HYPER JAPAN London 2010 will also welcome numerous exhibitors of anime and manga content, including the exclusive Evangelion store, anime content from Toei Animation, exclusive merchandise from Square Enix including items from the Final Fantasy series, cute goods from Artbox, publications from Hobby Japan, character goods and accessories from Good Smile Company, top Japanese and Asian films from Third Window Films and much, much more.
Further details on stage entertainment, demonstrations, food, drink, workshops and seminars are available on the website. Day tickets are on sale now via the Hyper Japan website, for £8 per ticket. A special discount is available for groups: buy two or more tickets for just £5 per ticket. Kids under five go free. Tickets are limited so visitors are encouraged to buy in advance.
Find out more on the Hyper Japan website, Facebook or Twitter @hyperjapanevent.

intrepidmouse . 更新日 2010年9月14日
---