JACL Convention Features Night at Club Chicago
Swissotel in the Zurich Ballroom
323 East Wacker Drive
Chicago, Illinois
United States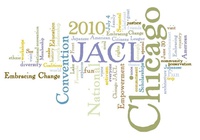 JACL Convention Features Night at Club Chicago

A Night at Club Chicago will revive memories of a time in the 1940's when many Japanese Americans migrated from the concentration camps to Chicago. This night of entertainment will tell the story of that migration and the search for housing, jobs, and a new life; a life that included the music and ambiance of Chicago's night club scene. A Night at Club Chicago will take you back to that time through the music, the stories, and the songs from that era.
A Night at Club Chicago will feature the Grateful Crane Ensemble, a Los Angeles-based group performing in Chicago for the first time. The ensemble features vocalists Keiko Kawashima and Kurt Kuniyoshi along with Scott Nagatani on keyboards.
Formed in 2001, the Grateful Crane Ensemble have performed in a number of shows produced by Soji Kashiwagi including The Camp Dance: The Music and the Memories, which recalls how music and song helped the internees of America's concentration camps endure their incarceration.
Chicagoans Steve Hashimoto on bass, Kenny Takaoka on drums, and playwright Keith Uchima will provide a local flavor to this production. A Night at Club Chicago is the final event of the 2010 JACL National Convention and will be held on Saturday, July 3, at 8:00pm in the Zurich Ballroom. Tickets for this event are $30.
To take advantage of early registration rates, you must register by June 10. Click here to register online!
The 2010 JACL National Convention will be held from June 30-July3 at the Swissotel, 323 East Wacker Drive, Chicago, IL. For information about the Convention, call 773.728.7171, email chicago2010@jacl.org or visit the 2010 JACL Convention website.

intrepidmouse . 更新日 2010年7月9日
---