Celebrating Hinamatsuri: Japanese Girl's Day
James Irvine Japanese Garden
244 S. San Pedro Street
Los Angeles, California, 90012
United States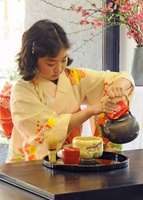 The JACCC opens up the spring season with "Hinamatsuri: Celebrating Japanese Girl's Day." Traditionally held on March 3, Hinamatsuri (doll festival) is an observance of rituals practiced by Japanese families in honor of young girls.
Families enjoy the day with a stroll through the newly re-dedicated James Irvine Japanese Garden, a tea ceremony, Japanese music, and viewing of an elaborate display of traditional Hina Dolls.
Pre-registration is required. To register, please call (213) 628-2725 ext. 133
James Irvine Japanese Garden
Hina Doll Exhibit & Tea Ceremony: Donations Welcome
Tea & Hinamatsuri Treats Tasting Event at the Garden: $20 General Admission, $15 JACCC Members

For more information call (213) 628-2725 ext. 133 or email kelley@jaccc.org .

JACCC . 更新日 2010年7月9日
---