Day of Remembrance
Multicultural Community Center, 2nd floor MLK Student Union, UC Berkeley
Berkeley, California, 94704
United States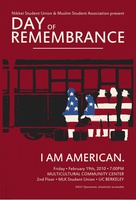 Do you know about the internment of Japanese in America during World War II? Perhaps you've heard about it, but what about the detainment of Muslim Americans after 9/11? What about the internment of Japanese Latin Americans? Why are these stories still relevant today?
Come to Day of Remembrance to find out!
Day of Remembrance is an educational event that remembers and honors the incarceration of 120,00 Japanese Americans during World War II, and stresses the importance of unity and solidarity among minority groups so that such injustices cannot happen again. Day of Remembrances are traditionally held on February 19th to serve as a reminder of the signing of Executive Order 9066 in 1942, which allowed for the incarceration of the Japanese Americans. The event is open to the general public and is especially designed for students of color and other minority groups to attend.
This year marks the 68th anniversary of the signing of Executive Order 9066, as well as the 2nd annual collaboration between the Nikkei Student Union and the Muslim Student Association. This year's theme is "I am American." It seeks to explain why the story of the Japanese American incarceration is still relevant and important today, not only for Japanese Americans, but for all people. It stresses the significance of remembering this event, as injustices are still occurring today, such as in the Japanese Latin American communities and the Muslim American communities. It also explains steps being taken to educate the public and fight against injustice, such as pilgrimages to sites of relocation camps, other Day of Remembrances, and campaigns for redress.
Featuring:
Professor Emeritus James Hirabayashi, 1st Dean of Ethnic Studies at SFSU
A screening of Hidden Internment: The Art Shibayama Story
Stephanie Miyashiro, activist and member of Campaign for Justice
Professor Hatem Bazian, Ethnic Studies and Near Eastern Studies at UC Berkeley
Refreshments will be served following the event.


maekawab . 更新日 2010年7月9日
---