Jude Narita & Friends
Miles Playhouse
1130 Lincoln Blvd
Santa Monica, California, 90403
United States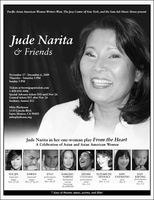 Award-winning Jude Narita in her one-woman play "From the Heart" which celebrates the lives, and brings to life the dreams, of different Asian and Asian American women. From a Korean student to a Japanese American woman, a Cambodian woman to a Chinese American, Narita illuminates the universal humanity of us all.
Performing before the play each night will be wonderful L.A. artists whose work Jude loves.
Artists joining Jude Narita are:
Fri. Nov 27 - singer/musicians Dawen & Sue Jin
Sat. Nov 28 - performance artist D'Lo & singer/musician Sue Jin
Sun. Nov 29 matinee - D'Lo & Dawen
Thur. Dec 3 - performance artist Denise Uyehara & poet Elizabeth Iannaci.
Fri. Dec 4 - Denise Uyehara & poet Amy Uyematsu.
Sat. Dec. 5 - performance artist Dan Kwong & Elizabeth Iannaci.
Sun. Dec. 6 matinee - Dan Kwong & Elizabeth Iannaci.
Also filmmaker/actress Darling Narita will be screening SLAM BAM at the performances.
Evening performances are at 8 PM, Sunday matinees are at 3 PM
TICKETS:
**$10 ADVANCE SALES HAPPY TURKEY TICKETS TO NOV. 26!**
After Nov. 26 - $15 General; $12 Students & Seniors
http://www.brownpapertickets.com/event/88978 or call 1-800-838-3006
Theater parking is at 808 Wilshire, 1/2 block South of the Miles, entrance to underground parking on Lincoln. For map and directions to theater and parking lot, please go to: www.milesplayhouse.org
Street Parking on Lincoln, on theater block. Please check signs.
For more information about Jude Narita, visit her website here. To purchase some tickets, and learn more about the show, go to Brown Paper Tickets here.

vkm . 更新日 2010年7月9日
---