OAA Presents: King Sho Hashi~Dynamic Ryukyu
Redondo Beach Performing Arts Center
1935 Manhattan Beach Boulevard
Redondo Beach, California, 90278
United States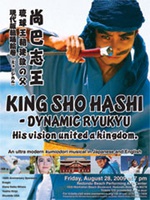 Direct from Okinawa to the Redondo Beach Performing Arts Center (RBPAC) comes the story of King Sho Hashi (b. 1371/d. 1439). Although he died at the age of 68, he is considered an iconic figure in Okinawan history. King Sho Hashi is credited with being a leader and a visionary for the island nation, known then as the Ryukyu Islands. Before King Sho Hashi's reign, the islands operated separately under three different kingdoms. The majority of peasants in these kingdoms lived amongst themselves and the Ryukyu Islands did not have a significant presence in that region of the world. The king, however, used his power and vision to change that.
Acclaimed director and producer Daiichi Hirata brings King Sho Hashi's story to life on stage with his 50-member cast and crew. In Hirata's style of blending hip, modern, expressive music and dance with traditional Okinawan arts, the onstage performances promise to captivate audiences of all ages.
Perhaps, more impressive than the story is fact that the dialogue will be performed in English by the cast from Okinawa. The cast members are high school aged teens from different parts of Okinawa, however, under the lights, makeup and costumes, they perform as seasoned professionals beyond their age.
Tickets $30 presale / $40 at the door
For tickets, call (310) 532-1929
This is part of the Okinawa Association of America's centennial events. For more information, visit http://www.oaamensore.org/100/. To view the August 10, 2009 Rafu Shimpo article, "A Musical Most Okinawan," about this performance, visit http://rafu.com/news/?p=3070

oaa . 更新日 2010年7月9日
---