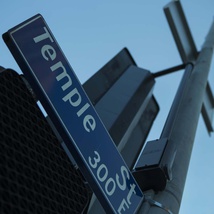 He's standing about a foot away from me. He holds his right hand behind his back. Could he have some sort of weapon?
My mind whirls. I don't know how to play this. I decide to keep it casual, as if I don't even suspect anything is askew. "Hi, Kyle. How have you been?"
"I heard that you were at the koban. Asking about me." I try to create more space in between us, but Kyle's not budging.
"Yeah, the LAPD is having a booth at Nisei Week, so I was wondering if maybe you can help out. Since …