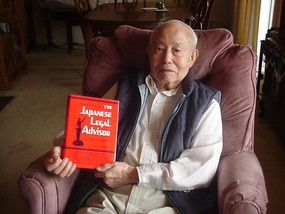 "I forgot Japanese," George Koshi, a 92-year-old MIS veteran, modestly said in Japanese with a perfect Japanese accent.
He was the only American legal officer in Japan during its occupation period after World War II (1945-1952) who spoke Japanese. Between George and a framed picture of his late wife, Ai, smiles his daughter, Joyce, who was born during this period.
George's parents came from Kumamoto.
"My father first came to Colorado, then my grandfather arranged a wife for him and sent her. They met for the first time."
George talks about his parents' picture-bride marriage with a bashful smile as …